BIC's New Media Track At CCNY Inspires New Generation Of Communications Leaders
By BIC CCNY Posted on 10/13/2021 10:00
"The skills from the media track will give students a true head start in the job market. I can't wait to hire them."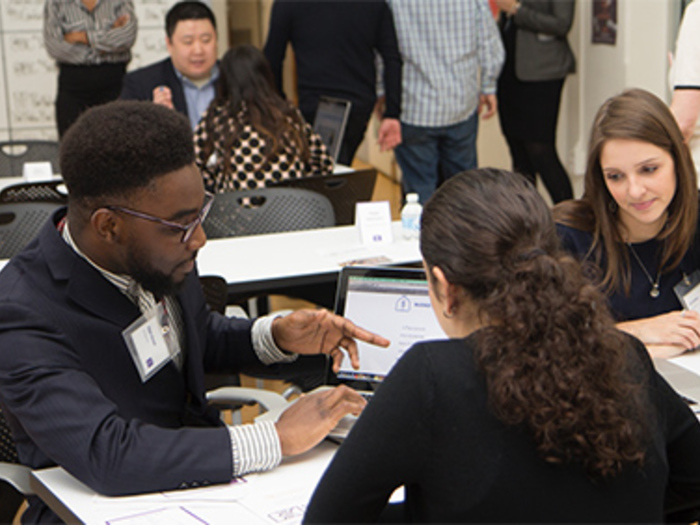 BIC is excited to add a Media track to our Master of Professional Studies (MPS) curriculum. Admission candidates can apply as of October 1, 2021 to become part of the Media track's first cohort for fall 2022.


BIC MPS students can gain specialization depth in one of four tracks (Creative, Management/Strategy, Public Relations, and now Media) while studying marketing communications in BIC's unique integrated environment. Competitive, cross-disciplinary teams will be empowered by the inclusion of media-focused students as they take on real-world capstone projects on behalf of paying clients. The 36-credit, portfolio-driven graduate program gives students direct access to industry leaders and active professionals, all at an extremely affordable price.


"Integrating media within the overall brand and communications MPS program provides BIC students the unmatched experience of collaborating in a small, cross-disciplined agency culture while working with, and learning about, some of the most renown brands," said Carole Walker, BIC adjunct professor, and former senior director of Mars Integrated Communications Group.


Three new courses will provide specialization depth for the Media track:


Data Analysis & Optimization: Students will examine primary and syndicated data to learn about brand and media usage, the competition, the consumer, and influencers to understand where along the purchase journey communications can have a meaningful impact on the business.
Integrated Media Planning: Students will learn to appreciate the complexities of the rapidly changing media landscape on brand media and marketing strategies, comprehending how paid, earned and owned media fits within the larger ecosystem of marketing options.
Media Investment Strategies: Students will examine the many buying strategies from timing the market to integrated platform negotiations that align with brand investment decisions and meet business goals.
By taking a collaborative, project-based approach, BIC's new Media track will deliver the latest strategic thinking, analysis, tools, and skills to create actionable communications solutions for today's brands. Media will not only be examined on its own terms and within an integrated model, but as the basis for the next wave of technologies that will drive communications, commerce, and culture. Importantly, BIC will help establish leadership practices in responsible data use, multicultural inclusivity, and ethical media investment strategies.


The media landscape has changed dramatically in the last decade, and the communications platforms that deliver content are critical to building brand identity and cultivating relationships with key stakeholders and audiences. For this reason, BIC relies less on textbooks and more on expert faculty who are also active, high-achieving professionals and whose wisdom in the field is urgently needed. According to Michael Wright, global head of talent acquisition at GroupM, "There's never been a better time to work at the business end of the media equation. Clients are asking us to field people who can meet the needs of their business transformation—not just marketing transformation."


Graduates of the program are competitively prepared for today's fast-moving and fragmented media landscape, and poised for leadership positions in developing communications areas, including predictive analytics, data mining and programmatic media technologies.


BIC Professor and Founding Director
Nancy R. Tag
stated, "no other master's program elevates media planning, activation, and analytics within an integrated framework as a discipline worthy of graduate study."
"I am excited to see City College of New York leading the way by placing media expertise and learning at the heart of branding and integrated marketing education," said IPG Media CEO Daryl Lee. "Media is the engine of growth for many marketers today. The skills from the media track will give students a true head start in the job market. I can't wait to hire them."
---
Recommended Posts
---
<< Previous post
Next post >>