BIC Helps Harlem Mothers S.A.V.E. Transform Grief into Action.
By BIC CCNY Posted on 12/15/2022 19:11
Non-Profit Pitch Night produces tears of sorrow…and gratitude.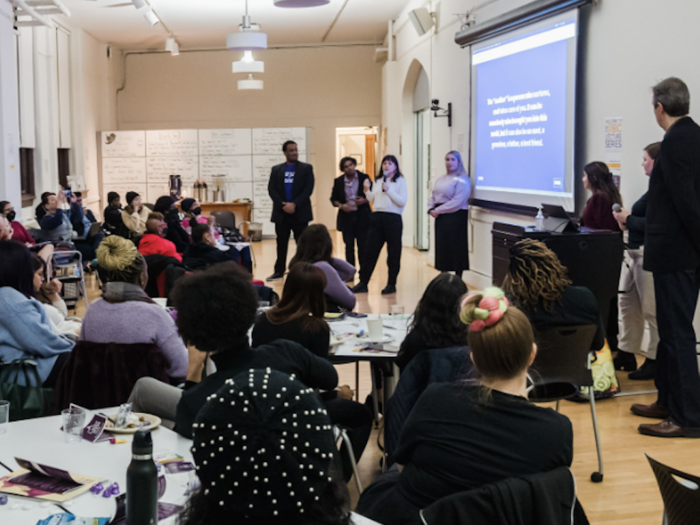 On Thursday, December 15, 2022, the BIC Class of 2023 welcomed Jackie Rowe Adams and her colleagues from the Harlem Mothers S.A.V.E for the Fall 2022 non-profit capstone Client Pitch. With the guidance of Professor Katina Scott and Ken Sheldon (BIC '15), teams were tasked with shining a light on this grassroots organization fighting to end gun violence in the Harlem community and beyond. Among the pitch judges was Misty Swan, BIC '18, who is not only Jackie's grand-daughter, but lost her father to gun violence. His death was a catalyst for Jackie to establish HMS.
Team TMRW kicked off the pitch with a moment of silence. The team then presented its dramatic integrated marketing communications campaign called "The Language of Grief" which demonstrated how the Harlem community could transform its unfathomable shared grief into fuel for growth, sustenance, and power.
Next up, Team DEI which showcased the unique bond of Harlem residents and created a campaign that harnessed that bond into a healing force.
Finally, Team HUMANS endeavored to build an even larger coalition across New York City through untapped empathy by calling on "The Mother in All of Us." Their campaign recognized that New Yorkers undermine their own quality of life by failing to take action to improve their community. But by being in touch with our "inner mother," the desire to nurture is an undeniable, irrepressible motivator.
At the end of the pitch, the teams moved Harlem Mothers S.A.V.E. to tears and more than a few standing ovations. A spontaneous duet of "The Wind Beneath My Wings" broke out sung by Sekayi Williams, BIC '23, and Jackie Rowe Adams. And then, after everyone's hard work was duly recognized, "The Language of Grief" was deemed the winning campaign. Bravo to all the Fall 2022 capstoners for their life affirming work, but especially to Team TMRW: Mayce Barker, Aubrey Downing, Sabrina Khan, Justine Sanborn, Hanako Suzuki, Niki Thomany, and Bonnie Tse.
---
<< Previous post
Next post >>