BICster Showcase: New Takedown of Guantanamo & Texas in ACLU Campaigns
By BIC CCNY Posted on 03/09/2022 10:00
OBERLAND Art Director Henrik Bakke-Hareide BIC '21 shares his latest campaigns for the ACLU on Guantanamo and on Abortion Rights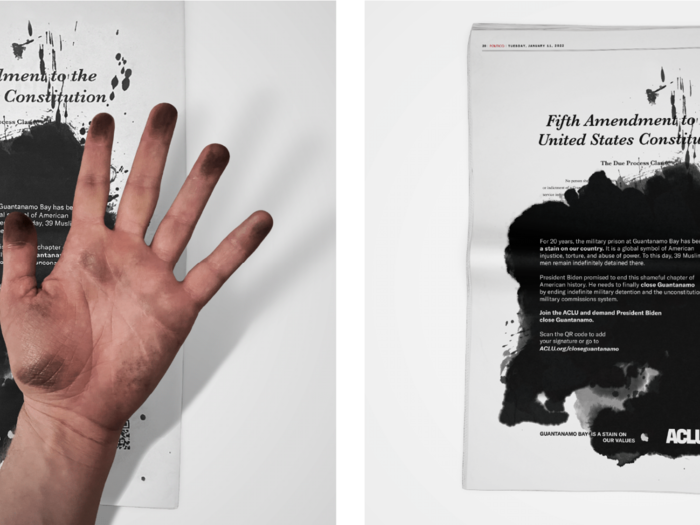 UP FIRST >>
New ACLU interactive campaign on Guantanamo's 20th Anniversary leaves stain on constitution – and us.
For 20 years, Guantanamo has been a stain on American values. What better way to demonstrate this than putting a HUMONGOUS stain on the 5th Amendment to the United States Constitution? A stain that outlines the shape of Guantanamo Bay. A stain that leaves a stain on you. A few weeks ago, the
ACLU
ran this full-page ad in
POLITICO
created by the amazing people at
OBERLAND
, including BIC's own Henrik Bakke-Hareide, '21.
The ad features a stain on the Due Process Clause of the Fifth Amendment to the United States Constitution, reflecting the United States' failure to recognize even fundamental fairness rights for the men detained at Guantánamo. It links to
a petition
demanding that President Biden finally shut this national embarrassment down.
On this solemn anniversary, Hina Shamsi, director of the ACLU's National Security Project, launched the ad along with the following statement:
"The Guantánamo Bay military prison is a catastrophic legal, moral, and ethical failure. It is a global symbol of American injustice, torture, and abuse of power. It's a national disgrace that our government has for 20 years indefinitely detained Muslim men at Guantánamo, and persists with unconstitutional and secretive military trials. President Biden needs to finally put an end to this extralegal and abhorrent prison and system."
You can learn more about this amazing campaign
HERE
.
UP NEXT >>
OBERLAND's New campaign for the ACLU reframes abortion bans as 'forced pregnancy' in Pharma-Style Abortion Rights Ad
A few weeks ago the
ACLU
launched a campaign on the 49th anniversary of Roe v. Wade, reframing abortion bans as "forced pregnancy." The ACLU teamed up with creative agency
OBERLAND
, which includes BIC alum and Art Director
Henrik Bakke-Hareide
BIC '21, on this new campaign that provokes viewers with the idea of forced pregnancy. It is directed by Samantha Scaffidi of the production company Smuggler.
"We had an opportunity to do something new and different because these laws are a new level of unlawful, limiting and hurtful towards our progress," said Kate Charles, OBERLAND's chief Strategy Officer.
You can learn more about this incredible ACLU campaign
HERE
.
Both campaigns are brought to you by Henrik BIC '21!
What does Henrik do NOW?
After graduating as part of BIC's Class of 2021,
Henrik
quickly landed a job as an Art Director at
OBERLAND
, a purpose-driven agency that is all about creating purpose-driven work. Henrik is currently working on the ACLU and Consumer Reports accounts, as well as New Business.
FROM Here to There >
Stay tuned for more BICster Showcases soon…!
---
Recommended Posts
---
<< Previous post
Next post >>