How Sweet It IS >> The BIC Class of 2023
By BIC CCNY Posted on 06/03/2023 10:53
To BIC's hungry learners, Discord denizens, and tireless capstoners.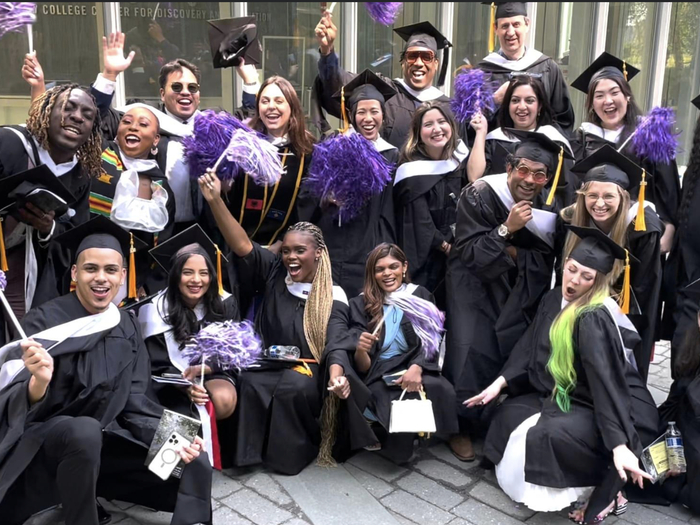 What best captures the essence of the BIC Class of 2023? Donuts!!
How so? This cohort is sweet and comforting >> To each other and to the world. Caring about saving Harlem from gun violence. Measuring love one cup of flour at a time. Peace, love, and understanding… and bringing actual donuts to class.
After starting their journey on August 24th, 2021 in Shepard Hall two years ago, the Class of 2023 graduated on a glorious day, May 31st, 2023. They walked across the stage at the Humanities and Arts divisional ceremony in the morning and then convened in the BIC space with friends and family as freshly minted BIC grads for a Fumo-fueled party.
These 22 students come from across the Globe, including Dubai, Peru, and Venezuela, as well as more exotic places such as Brooklyn, the Bronx, and Manhattan's Upper West Side. BICsters from the Class of 2023 have received degrees from illustrious universities -- from City College to Hunter, from Sarah Lawrence to Vassar College, from University of Colorado to NYU. As undergrads, they've studied a range of disciplines including nutrition & food science, cinema studies, English literature, graphic design, printmaking, and nursing.
BIC 2023 is full of doers and go-getters. From Feygens Saint-Joy heading off for a PhD in the Fall, to Ariadne Rosales Valero bringing it home at the CCNY Grad Symposium for her "Walk a Mile in Their Shoes" campaign. A stack of One Show pencil winners: Genaldri Tjahjadi, Hanako Suzuki, Seyaki Williams, Jaymie Lunt, Sabrina Khan and Andrew Page (Hanako and Genaldri won TWO pencils during their time at BIC!) Networking TLF Scholars Hanako Suzuki, Isabella Santana, and Sabrina Khan; the last two are two-timers, too!
At the graduation celebration on Wednesday, May 31st, 2023, congratulations and awards were presented to BICsters as their proud friends and families (who flew in from around the world) watched them graduate with accolades. Certificates of distinction were handed to four students with the highest GPAs: Justine Sanborn with a 3.923 GPA, Hanako Suzuki and Jody Karg tied with a 3.925 GPA, and Andrew Page with a near perfect GPA of 3.98. Other shout outs went to BIC grads who were also CCNY undergrad alums: Jody Karg, Feygens Saint-Joy, Dina Shehab and Isabella Santana.
Professor Tag quoted Andrew Carnegie as she bid adieu to the Class of 2023: "Do your duty and a little more … and the future will take care of itself." Onward, Class of 2023. Do your duty. Shape the future. Eat a donut. Add some sprinkles. And STAY CURIOUS!!
Watch out world, the Class of 2023 is coming your way!!
---
<< Previous post
Next post >>