Diving Deep and Soaring >> Portfolio Defense 2023
By BIC CCNY Posted on 06/03/2023 10:48
Top scores in each track this year went to Gabrielle Newland (PR), Hanako Suzuki (Creative) and Isabella Santana (MP).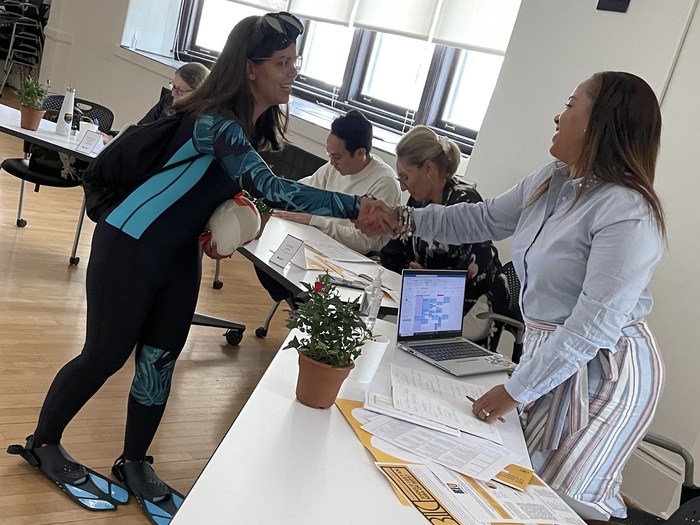 BIC's Portfolio Defense was once again on-campus this year on May 30, 2023 in Shepard Hall. Four back-to-back sessions of portfolio presentations in disciplines of public relations, strategy, creative direction, project and brand management started at 10AM and wrapped up at 5PM. As they have throughout their two years at BIC, the Class of 2023 rose to the challenge and WOW-ed our amazing judges.
It was a long but rewarding day. BIC students entered their allocated rooms one-by-one for their appointed 25-minute slot. Each session included 18 minutes of presentation and 7 minutes of judge's questions, comments, and push back. The entire Portfolio Thesis Defense then repeated itself in the afternoon.
BIC is grateful to this year's judges, which included 4 BIC alumni: Vinicius Caetano, Senior Consultant in Marketing Research and Insights at C Space; Castro Desroches (BIC '16), Group Creative Director at Translation; Allyssa Gresser, Research Director at C Space; Scott Higgins, Creative Director of Brand and Sports Marketing at Oracle; Aisha Hudson, Vice President in FleishmanHillard's Corporate Reputation practice in NYC; Jane Lacher, Head of Growth at GroupM; Yerddy Lanfranco, Vice President of Marketing Sciences and Audiences at IPG Kinesso; Gemma Legg, Senior marketer leading US Events Centre of Excellence at Google; Erica Lopez (BIC '18), Account Manager on the Corporate Reputation and Brand Purpose team at WE Communications; Meg Deedy Loughney, Managing Director, Marketing Strategy, Transformation at Accenture Song; Federico Mejer, Co-Founder of The Knockout Network and working in One Platform Marketing at NBCUniversal Media; Simona Meynekhdrun, Senior Manager of Product Public Relations at Samsung Electronics America; Michelle Rowley, SVP of Consumer Strategy at Saatchi & Saatchi Wellness; Raymond Sein (BIC '20), Senior Brand Strategist at Droga5; Michael Towell, Executive Creative Director at Weber Shandwick; and Nicole Zizila (BIC '21), CCNY Ad/PR Professor.
Congratulations to the Class of 2023: BICsters celebrated achieving their MPS degree at the BIC graduation party on Wednesday, May 31st, 2023 following the general City College graduation. They were a part of CCNY's 170th Commencement. The top scoring BICsters in each track were announced. Honors went to Gabrielle Newland who scored top for Public Relations, Hanako Suzuki who received the top score in Creative, and Isabella Santana who received top score in Management/Planning (and overall!).
Special thanks to all of the BIC faculty and staff who helped support BICsters throughout their time in the program — especially the faculty who taught the Portfolio Thesis Electives this year: Professors Katina Scott, Jaime Schwarz, and Nancy R. Tag.
---
Recommended Posts
---
<< Previous post
Next post >>