The Future Is Bright: Natalie Alcide Selected as a 2021 ADCOLOR FUTURE
By BIC CCNY Posted on 10/06/2021 17:00
Big BIC Bravo to Natalie Alcide BIC '19 who has been selected as a 2021 ADCOLOR FUTURE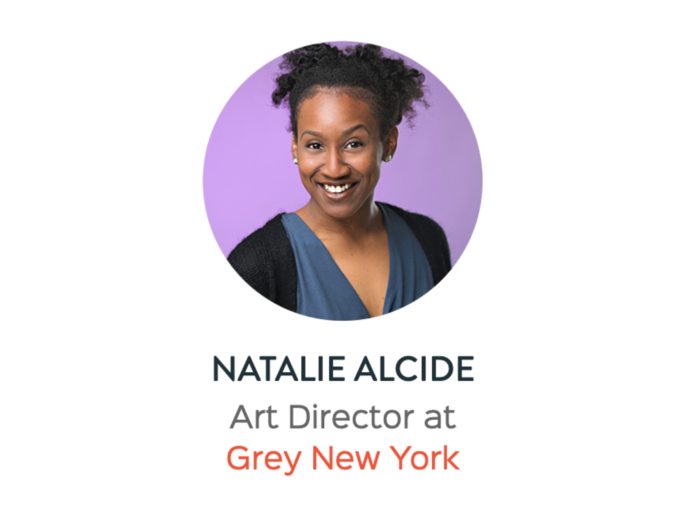 Congratulations to
Natalie Alcide
BIC '19 who has been selected as a 2021 ADCOLOR FUTURE. Currently an Art Director at Grey New York, Natalie's mission has always been to tell stories that often go untold. During her career she has successfully done this for brands like P&G, Discover & Hennessy. Her induction into the ADCOLOR FUTURE Class of 2021 is recognition of that work and drive as a professional.
Launched in 2012, the FUTURES program is celebrating its 10th anniversary this year. During that time,
ADCOLOR
has been committed to "supporting the talent of tomorrow, today" through its Futures program which is dedicated to identifying and nurturing the next generation of diverse leaders in the advertising, marketing, media, and public relations industries. ADCOLOR honorees, nominees and Futures go above and beyond to make a difference within their communities and their organizations.
The program is highly competitive with only 30 young professionals selected to participate in the 2021 class after an extensive application and interview process.
Natalie was chosen alongside her peers based upon a number of criteria including strong leadership potential, sustained involvement in reaching back, interest in partnering with leadership to drive change through DE&I initiatives and innovative thinking to solve today's problems.
When asked what becoming an ADCOLOR FUTURE means to Natalie, she said "Lin Manuel Miranda nailed it when he coined the term "the room where it happens." Becoming a 2021 ADCOLOR FUTURE feels like entering the community where it happens. Within the FUTURES program learning happens, connection happens, growth happens, and the life-changing experience of tapping into something way bigger than yourself happens. Becoming a future also entails dedicating yourself to the ADCOLOR values of "Rise Up" and "Reach Back," which are huge passion points of mine as I grow in my career. "
This is not the first time Natalie has been awarded for her brilliance. She has also been a Marcus Graham iCR8 Fellow, a AIGA's 9th Annual Fresh Grad and won 1st Place at the One Club Creative Bootcamp 2016 with her team. She is also a BIC Ambassador.
A graduate of BIC's Class of 2019, Natalie is our fifth BICster to win this prestigious honor. Amera Lulu, Melissa Julien, Stephanie Cruz Betances and Amber Lynn Jackson have also been members of this selective program.
Congratulations Natalie on this incredible achievement! We are beyond proud and can't wait to watch you in this journey.
You can learn more about the ADCOLOR FUTURE's program
here
.
---
Recommended Posts
---
<< Previous post
Next post >>