The Power of Tomorrow, Today >> Kamillah Collins is a 2022 ADCOLOR FUTURE
By BIC CCNY Posted on 10/31/2022 14:19
Bravo to Kamillah Collins (BIC '24) who has been selected as a 2022 ADCOLOR FUTURE!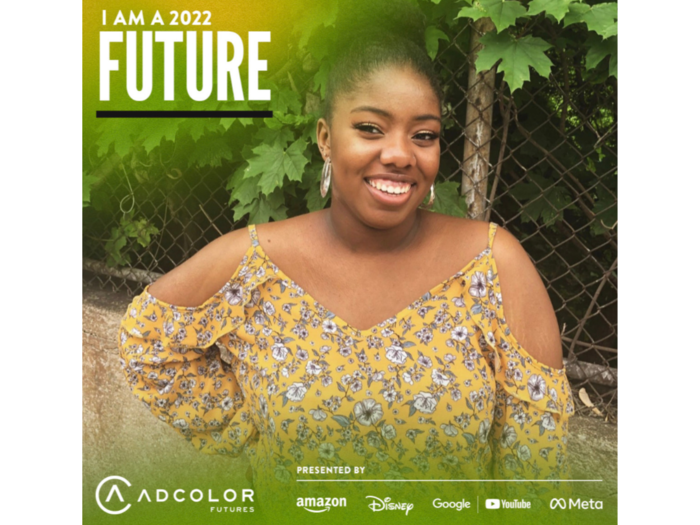 Congratulations to
Kamillah Collins
(BIC '24) for being selected as a 2022 ADCOLOR FUTURE, the sixth BICster to receive such an honor. Crushing it professionally at
Ogilvy
, Kamillah started as a copywriting intern a little over three years ago at BBDO before pivoting to strategy. As Strategic Planner, she's been an integral member of the team developing strategies for brands such as Facebook, Dunkin', SheaMoisture, and Bacardí. With a BFA in Communication Design from the New York City College of Technology and a MAIP super star, Kamillah recently decided to #MasterUP and join the BIC Class of 2024.
Launched in 2012, the FUTURES program is celebrating its 10th anniversary this year. During that time,
ADCOLOR
has been committed to "supporting the talent of tomorrow, today" through its Futures program which is dedicated to identifying and nurturing the next generation of diverse leaders in the advertising, marketing, media, and public relations industries. ADCOLOR honorees, nominees and Futures go above and beyond to make a difference within their communities and their organizations.
The program is highly competitive with only 28 young professionals selected to participate in the 2022 class after an extensive application and interview process.
Kamillah was chosen alongside her peers based upon a number of criteria including strong leadership potential, sustained involvement in reaching back, interest in partnering with leadership to drive change through DE&I initiatives and innovative thinking to solve today's problems.
Kamillah is grateful to be part of this prestigious group. She shares, "Being an AdColor Future means so much to me. It's exciting to be connected with so many people from different disciplines and backgrounds over a common goal of making change within the advertising industry."
Congratulations Kamilla on this incredible achievement! We are beyond proud and can't wait to watch you in this journey.
You can learn more about the ADCOLOR FUTURE's program
here
.
---
Recommended Posts
---
<< Previous post
Next post >>