Two BIC Teams Make 2019 Young Ones Client Pitch
By BIC CCNY Posted on 04/26/2019 17:53
A BIG BIC Congrats to the TWO BIC teams that have been selected for The ONE Show's 2019 Young Ones Client Pitch!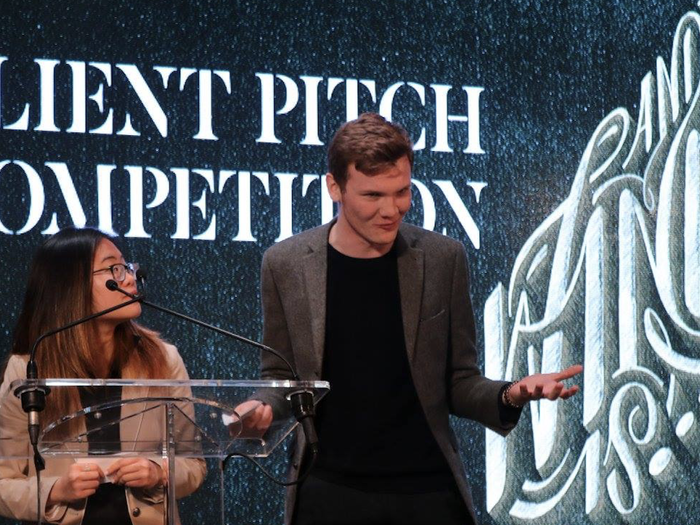 Ten teams from around the globe were selected to pitch their work directly to the client from 9 to noon on Monday, May 6th. Could be historic. It's definitely epic. The winners will receive a $2,000 prize and will be announced at the Young Ones awards ceremony on Tuesday, May 7.
This year's Client Pitch teams include BICsters:
Jose Fresan, Lorenzo Lasagna, Melissa Orr,
and
Roxie Xie
who will pitch their campaign "The Crisis Collection" on behalf of Il Makiage and
Natalie Alcide, Sahana Chowdhury, Sara Ledra,
and
Amera-Rime Lulu
who will pitch their campaign "Malaria Can't Stop Fabulous" also on behalf of Il Makiage.
With barely a week between finding out that they made the finals and the actual pitch performance, our BIC teams have little time to rehearse. But thanks to initial campaign help from instructors
Jason Stefanik
and
Andy Currie,
they'll be plenty prepared!
Good luck to our BIC teams! Check back to find out how they did...
BICsters Pitching Donuts for Peace in 2017ABOUT: The Client Pitch Competition offers students a chance to win an award by pitching their Young Ones Competition entries to a group of top creatives and client representatives. While the Young Ones Competition is judged solely by creative excellence and idea, the Client Pitch Competition is judged by the participants' ability to create and articulate a focused strategy and the persuasiveness of the marketing pitch.
The One Club will select the best submissions, and the finalist teams will give a 10-minute live presentation to a panel of judges in May in New York City. The winning team will then be announced and awarded with $2,000 at the One Show Young Ones Awards Ceremony.
---
Recommended Posts
---
<< Previous post
Next post >>