2022 DezMax Scholarship Winners Tackle The Venezuelan Refugee Crisis and Prenatal Equity
By BIC CCNY Posted on 02/08/2022 11:00
Congratulations to this year's DezMax Scholarship winners, Ariadne Rosales Valero BIC '23 and Oyinda Amu BIC '22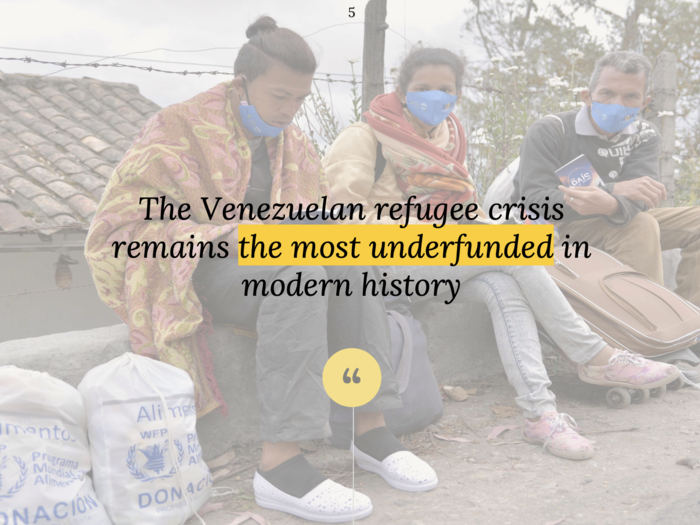 Congratulations to this year's DezMax Scholarship winners,
Ariadne Rosales Valero
BIC '23 and
Oyinda Amu
BIC '22. Each submission fulfilled the award's criteria which asks BICsters to develop a communications project that champions a cause with persuasion, passion, and charisma.
FITNESS AS ACTIVISM >>
For her winning submission, Ariadne focused on the Venezuelan refugee crisis, a deeply personal issue for her. "Being Venezuelan, it is hard to personally witness the plight of millions of people who used to be my neighbors, friends, acquaintances or even strangers. However, being originally from San Cristobal, the border down with Colombia, the cause of the Venezuelan "caminantes" (walkers) is even more personal." With her "Walk A Mile In Their Shoes" campaign, Ariadne detailed how over 6 million people have fled Venezuela since 2016 yet the Venezuelan refugee crisis remains the most underfunded in modern history. She asked how can we get people invested and involved? How can we get them to rally around policy makers and powerful stakeholders to make a change? Her campaign seeks to raise awareness and funds for the Venezuelan refugee crisis by partnering with exercise companies such as Peloton who can make the plight more experiential by virtually showing the rigorous route the refugees travel. In this way, Ari's campaign will raise awareness among a more affluent audience who develop empathy during their own personal fitness routines. The main message? "Venezuelan refugees go through extenuating circumstances to find a better life. We can help improve their conditions while improving our own fitness goals."
PRENATAL EQUITY >>
For her winning submission, Oyinda tackled Black maternal health awareness with her
"We Are Mother"
campaign. In the United States today,
76%
of Black mothers are active participants in the labor force but are
3-4 times
more likely to experience pregnancy related mortality than white mothers, not to mention the heightened risk of pregnancy related complications such as fibroids and preeclampsia. The major social determinants contributing to these disparities lie in the income gap and as a result, limited access to education within the community. The "We Are Mother" campaign will be developed around raising awareness that maternal care is a necessity for all, rather than a luxury limited to the few. It will bring about brand awareness for
Black Mamas Matter Alliance
(BMMA) and the resources it provides, specifically their downloadable toolkit that provides an educational guide for Black Mothers to help navigate from pregnancy to birth and equip them with the knowledge needed to seek quality care customized to their unique experiences. Success of the campaign yields expanded education within the underserved community.
For this proposal, Oyinda stated, "as a young black immigrant woman living in the U.S, I've experienced first hand how a lack of access and limited resources can affect quality of life. This cause remains close to my heart as it not only tackles advocacy for an underserved group I belong to, but also seeks to secure a better future for Black people living in America as a whole. Healthcare is a human right and black maternal care, to me, is a necessity that should no longer be ignored."
Brava, Ariadne and Oyinda for creating campaigns which seek to make a difference in this world and sum up what the DezMax scholarship is truly all about.
ABOUT the Desmond Maxwell (DezMax) Cause + Charisma Scholarship.
As a student in BIC's inaugural Class of 2015, Desmond Maxwell was a successful media consultant, boastful undergraduate of City College, and proud member of the US Marine Corps, having served with distinction. He often said with great pride that he was "born and buttered in Harlem." Dez was not just a charismatic man, but a generously supportive and inspiring classmate who championed causes that were close to his heart. Sadly, Dez died a few months before graduation. However, through the generosity of classmates, BIC Board Members, and friends (with a special shout out to Rob Norman and
GroupM
), BIC was able to set up the DezMax Scholarship in his honor. Each year, BIC students compete for $4,000 in scholarship money with proposals that best demonstrate a communications-based solution to a societal problem.
Interested in donating to the DezMax Scholarship fund? Ask bic@ccny.cuny.edu how…
---
Recommended Posts
---
<< Previous post
Next post >>