2023 DezMax Scholarship Winner Battles Misogyny in Gaming
By BIC CCNY Posted on 02/21/2023 16:12
Cecilia Gamo Castellanos is the 2023 DezMax Winner.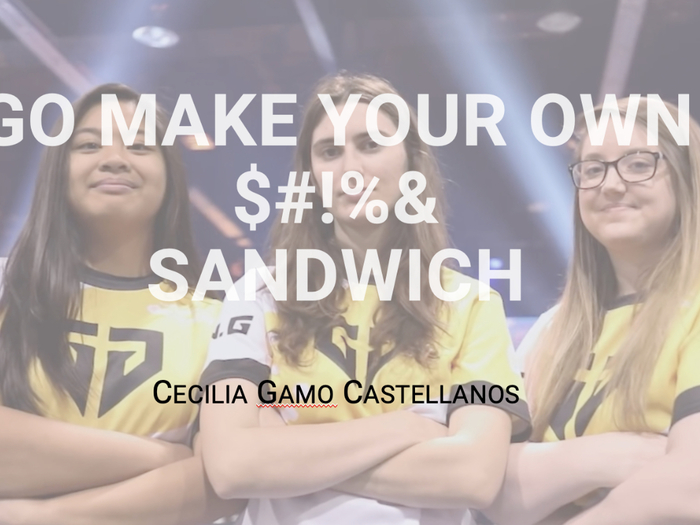 Congratulations to this year's DezMax Scholarship winner,
Cecilia Gamo Castellanos
BIC'24
! Her submission fulfilled the award's criteria which asks BICsters to develop a communications project that champions a cause with persuasion, passion, and charisma.
"Make Your Own %$#@ Sandwich" was a powerful proposal that sought to raise awareness on the existing misogyny and sexual harassment in gaming. The proposal presented a partnership between Twitch and the
Young Gamers & Gamblers Association Trust (YGAM)
.
According to research, misogyny is highly present in online gaming; a recent report published by YGAM states that 40% of female gamers have experienced verbal abuse from male gamers while playing online and 28% have experienced sexual harassment. The report highlights the importance of educating gamers to avoid this behavior, and encourages them to call it out.
To achieve this, the "Make Your Own %$#@ Sandwich" campaign will work with Ninja, currently the most followed Twitch streamer with 18.4 million followers. With him, they will launch a Call Of Duty championship in which the finalists will get to play Call Of Duty with Ninja, be featured in his Twitch channel, and the winners will get a prize of $6,000.
The goal is to use Ninja's influence as a feminist ally to teach young gamers the importance of respecting female players and to demonstrate how they can call out misogynist behavior themselves.
Brava, Cecilia, for leveraging your deep knowledge of the gaming world to infiltrate its ranks in order to combat misogyny in a meaningful way. We believe it could make a true impact, which is what the DezMax scholarship is all about.
ABOUT the Desmond Maxwell (DezMax) Cause + Charisma Scholarship.
As a student in BIC's inaugural Class of 2015, Desmond Maxwell was a successful media consultant, boastful undergraduate of City College, and proud member of the US Marine Corps, having served with distinction. He often said with great pride that he was "born and buttered in Harlem." Dez was not just a charismatic man, but a generously supportive and inspiring classmate who championed causes that were close to his heart. Sadly, Dez died a few months before graduation. However, through the generosity of classmates, BIC Board Members, and friends (with a special shout out to
GroupM
), BIC was able to set up the DezMax Scholarship in his honor. Each year, BIC students compete for $4,000 in scholarship money with proposals that best demonstrate a communications-based solution to a societal problem.
Interested in donating to the DezMax Scholarship fund? Ask bic@ccny.cuny.edu how...
---
Recommended Posts
---
<< Previous post
Next post >>