New Year, New BIC Faculty: Welcome ALL!!
By BIC CCNY Posted on 01/20/2022 10:00
It's a New Year which means a new semester and new BIC faculty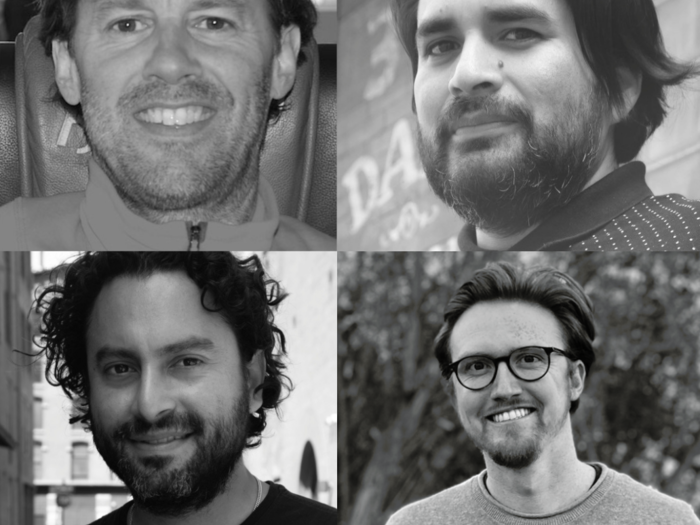 It's a New Year which means a new semester and new BIC faculty! A special welcome to four new BIC faculty, Charles Martella, Peter Walpole, Gian Lianfranco, and Rolando Cordova, who will be teaching courses in Brand Experience, Public Relations, and Creative. We're also excited to welcome back Michael Farmer and Rodes Ponzer co-teaching Internal Management, Jessica Lomasson and Marina Beldi team-teaching Creative Concepts, Michael Doody teaching Consumer Behavior & Persuasion and Sandra Stahl teaching Branding Influentials. In addition to being BIC Program Director and Management/ Brand Strategy Track Advisor, Nancy Tag will be teaching BIC Capstone: Corporate and Portfolio Thesis: Mgmt/Plan. Gerardo Blumenkrantz serves as Creative Track Advisor and teaches Portfolio Thesis: Creative and Creative Round Robin and Katina Scott is back teaching B2057 Portfolio Thesis: PR.
Charles Martella
will be teaching Brand Experience this Spring. Charles is the Founder of the Asylum Company, a strategic consultancy designed to solve business and marketing challenges in a streamlined manner through the custom-resourcing of diverse, uniquely talented teams. Past/current clients include Guinness, American Express, Samsung, Heineken, New Balance, Diageo, Mt. Dew, Mattel, and Silverspot Cinemas.
Charles started his marketing career in account management, until he realized the cool kids in creative got to wear jeans and sneakers. So he tapped his SVA experience and swindled his way to become a copywriter while still managing accounts. This began his (25+ years and counting) journey as a creative strategist across a range of disciplines, from brand marketing, experiential, and advertising to digital media and consulting.
Charles truly found his calling when he joined "innovation consultancy" Fusion 5 (cue the Marvel comics jokes), traveling around the world teaching clients like Ford Motors, Coca-Cola, P&G, HBO and others how to create actionable insights, how to brainstorm, and how to develop brand experiences that actually drive business growth. After a stint at MKTG where he helped pioneer the fusion of live and digital experiences (for Diageo, Nintendo, Nike) and then at Ogilvy's Geometry running both the creative and strategy departments he started his own innovation consultancy, Asylum, while also serving as CSO at-large for PSFK.
Charles - OK call him Chip, unless you're British and it reminds you of fried potatoes - still believes NYC is the greatest city in the world. Even as the Yankees and Knicks continue to disappoint.
Peter Walpole
, Senior Manager, Corporate & Digital practices at Golin will be teaching PR Branding Campaigns. Since joining as an intern at Golin in the summer of 2015, Peter works with clients including LinkedIn, PepsiCo, Ferrero, and L'Oréal to design and optimize their social and digital communications to reach relevant audiences.
In addition to content production and community management, Peter has a particular focus on executive social media coaching, and he's a close advisor to CEOs and senior leaders on LinkedIn.
Peter graduated from Elon University with a B.A. in Media Arts and Entertainment in 2015. Prior to joining Golin, he worked as a Production Intern for the late night show Conan, a Teaching Assistant at the Columbia University High School Program, and as a video producer and editor for an education technology company.
Born in Lima-Peru, Rolando and Gian are considered amongst the most influential South American Creative Directors in the world. Together, they founded L&C New York late in 2019, gaining early success and winning multiple awards at The One Show, Clio, Cannes Lions and London International. They positioned L&C as one of the hottest creative independent agencies in North America which has been ranked by The One Show 2021 as Top 10 Independent Agency in North America and Forbes Creative Agency to watch in 2020.
They have spent the last 17 years of their career as creative directors of some of the most prestigious advertising agencies in the world including McCann New York, Havas New York, Fred & Farid Paris, BSUR Amsterdam, Wieden+Kennedy Amsterdam and Saatchi & Saatchi Singapore. Creating multi awarded campaigns for iconic brands like Mini/BMW, American Express, Chevrolet, Orangina, P&G and Coca Cola.
Rolo, as everyone knows him, published his first book with Gian in 2016 If Someone ever tells you No, a manual to help emerging LATAM talent to turn their limitations into creative fuel. The book became a bestseller in South America. Rolo also served as jury and speaker in multiple advertising festivals including The One Show, New York Festivals, Eurobest, El Dorado Festival and El Ojo de Iberoamérica. Gian is one of the few South American natives to serve as Jury and speaker at Cannes Lions, The One Show and The Andy Awards.
---
Recommended Posts
---
<< Previous post
Next post >>