Ariadne Rosales Valero BIC '23 Wins Merit Scholarship At This Year's CCNY Graduate Symposium
By BIC CCNY Posted on 05/25/2022 10:00
The BIC winning streak continues!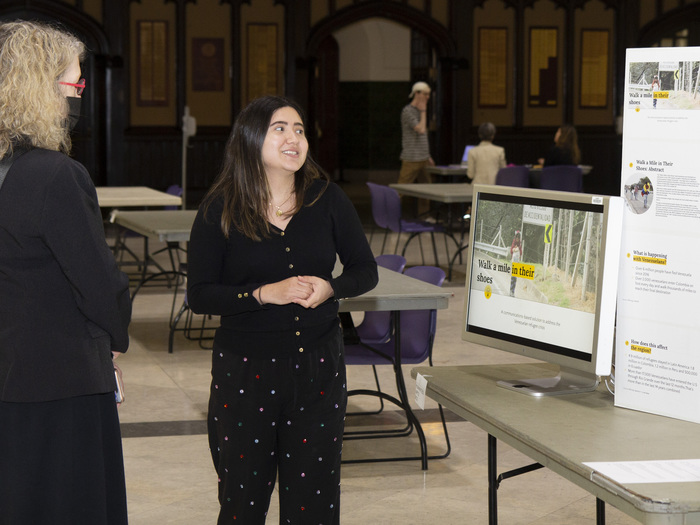 The BIC winning streak continues with BICster
Ariadne Rosales Valero
BIC '23 winning a $500 Merit Scholarship at Wednesday night's CCNY Graduate Symposium, which was held on campus for the first time since 2019 and in The Great Hall.
Ari won for her "Walk a Mile in Their Shoes" proposal, a version of her winning
DezMax
entry. For this effort, Ari focused on the Venezuelan refugee crisis, a deeply personal issue for her. "Being Venezuelan, it is hard to personally witness the plight of millions of people who used to be my neighbors, friends, acquaintances or even strangers. However, being originally from San Cristobal, the border down with Colombia, the cause of the Venezuelan "caminantes" (walkers) is even more personal." With her "Walk A Mile In Their Shoes" proposal, Ari detailed how over 6 million people have fled Venezuela since 2016 yet the Venezuelan refugee crisis remains the most underfunded in modern history. She asked how can we get people invested and involved? How can we get them to rally around policymakers and powerful stakeholders to make a change? Her campaign seeks to raise awareness and funds for the Venezuelan refugee crisis by partnering with exercise companies such as Peloton who can make the plight more experiential by virtually showing the rigorous route the refugees travel. In this way, Ari's campaign will raise awareness among a more affluent audience by developing empathy during their own personal fitness routines. The main message? "Venezuelan refugees go through extenuating circumstances to find a better life. We can help improve their conditions while improving our own fitness goals."
Each year, the CCNY Graduate Symposium calls for City College graduate students to present a research-driven project. Because BICsters are so adept at transforming research into compelling and visual narratives, it's no surprise that another BICster won a Merit scholarship. Ari joins a long list of winners including:
CCNY Graduate Symposium 2015: FIRST, SECOND and THIRD Prize
CCNY Graduate Symposium 2016: FIRST, SECOND and THIRD Prize
CCNY Graduate Symposium 2017: FIRST and SECOND Prize
CCNY Graduate Symposium 2018: FIRST, SECOND and THIRD Prize
CCNY H&A Graduate Symposium 2019: FIRST place
CCNY Graduate Symposium 2022: $500 Merit Scholarship
Bravo, BICsters!!
---
<< Previous post
Next post >>