BICsters Win $1K at CCNY's 2023 Graduate Symposium
By BIC CCNY Posted on 04/28/2023 13:21
BIC winning streak continues!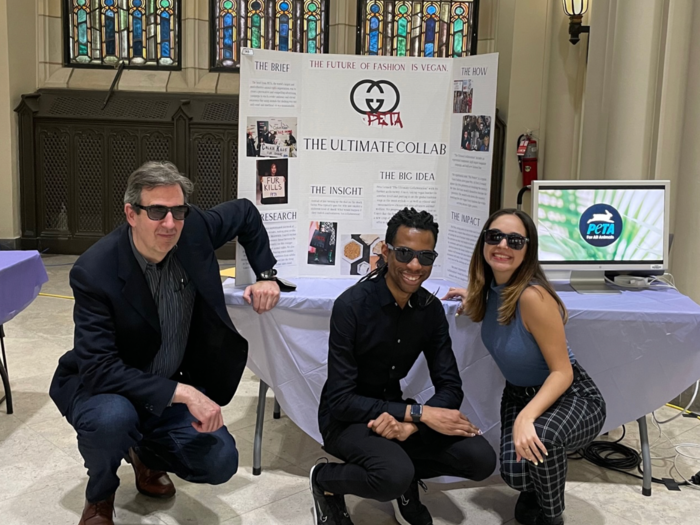 The BIC winning streak continues with BICsters Andrew Page BIC '23, Roderic David BIC '24, and Stella Ramirez BIC '24 winning a $1,000 Outstanding Scholarship at last week's CCNY Graduate Symposium, which was held on campus in the iconic Great Hall.
Andrew, Roderic, and Stella won for "The Ultimate Collaboration," an integrated communications campaign on behalf of PETA, the world's largest and most-effective animal-rights organization. The goal was to create a provocative and compelling advertising campaign to grow awareness that using animals for clothing is not only cruel and unethical – it is unsustainable. Since PETA had been deploying a sophisticated playbook of aggressive shock tactics for decades, making great strides but not achieving full success, the team wondered what would happen if they traded confrontation for collaboration? They envisioned PETA reaching out to its arch-enemy, the leading label for luxury leather products Gucci, which had long resisted PETA's protests. Their research discovered sustainability is a priority for a younger generation, one that Gucci had successfully courted to record sales numbers that recently had been flagging. They also noted how Gucci had been embracing remix culture through a series of collabs with competitors from Adidas to North Face. A PETA-Gucci partnership seemed just the thing that the fashion giant needed to recapture their red-hot sales trend and prove that the future of fashion was vegan.
This proposal was developed for BIC's one-credit Competition Ready course taught by
Craig Elimiliah
, Global Chief Creative Officer at Lippe Taylor. "The Ultimate Collaboration" was shortlisted at The ONE Club's
2023 Young Ones Competition
which is globally recognized as the premiere venue for showcasing creative excellence on the professional and student level.
BICster
Cecilia Gamo Castellanos
BIC '24 also presented at the Graduate Symposium, winning a $500 Merit Scholarship for
"Make Your Own %$#@ Sandwich"
an experiential, multi-media communications campaign that infiltrates the world of gamers in order to sensitize male players to their misogynist behavior and put an end to it. The campaign partnered with Twitch, the largest gaming platform in the world, and the Young Gamers & Gamblers Association Trust (YGAM), a non-profit organization that seeks to inform, educate and safeguard young people against gaming and gambling harms. This proposal was also awarded the 2023 Desmond Maxwell Scholarship.
Each year, the CCNY Graduate Symposium calls for City College graduate students to present a research-driven project. Because BIC students are so adept at transforming research into compelling and visual narratives, it's no surprise that BICsters do well. Andrew, Roderic and Stella join a long list of BIC wins including:
CCNY Graduate Symposium 2015: FIRST, SECOND and THIRD Prize
CCNY Graduate Symposium 2016: FIRST, SECOND and THIRD Prize
CCNY Graduate Symposium 2017: FIRST and SECOND Prize
CCNY Graduate Symposium 2018: FIRST, SECOND and THIRD Prize
CCNY H&A Graduate Symposium 2019: FIRST place
CCNY Graduate Symposium 2022: $500 Merit Scholarship
Bravo, Andrew, Roderic, Stella and Cecilia!
---
Recommended Posts
---
<< Previous post
Next post >>