BIC Alum Spotlight: Javier Garcia BIC '15 on Finding His Own Voice as a CCNY Professor
By BIC CCNY Posted on 10/12/2023 16:42
The BIC interview with BIC alumnus Javier Garcia on his journey back to school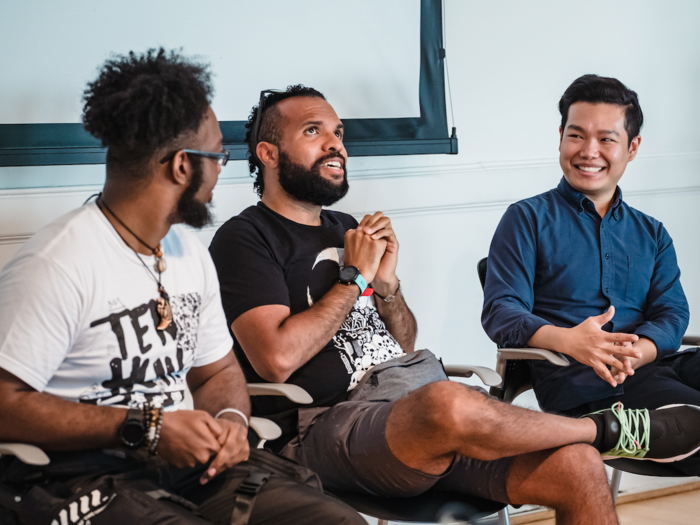 Javier Garcia
BIC '15 is someone who believes in the importance of commitment, growth, and making a positive impact in the industry through academia. After working in account management on the ad agency side, Javier used his experience to go into academia. His commitment to The
City College of NY
runs deep: Javier earned a CCNY bachelor's degree in communications and a BIC MPS, is on the Board of Directors of the
Communications Alumni Group
, and, as of August 2023, you can call him Professor Garcia as a tenure-track assistant professor in CCNY's Ad/PR program. As a dedicated alum from BIC inaugural class, Javier has continued to give back and be a positive voice within our program.
Stella Ramirez
, BIC '24 and Communications Intern, spoke with Javier to dig deeper into what challenges he faces within his new role, the balancing act with AI in the classroom, and empowering students to find their voice as he finds his own within academia.
Stella: What do you find is the most rewarding part of working with CCNY undergraduate students?
Javier: I think there's layers to it, and honestly, the joy I get really depends on the situation and what I'm working on. Up until now, a lot of the pride I've gotten has been out of seeing the students grow and thrive and succeed. I have also taken pride in just building and creating classroom experiences and content and things that I know will benefit the students in the long term.
Stella: As an educator with industry experience, are there topics within the industry as a whole that piques your interest and can apply to your teaching?
Javier: There've been a lot of conversations around things like DEI, retaining marginalized employees of marginalized backgrounds, things like that. But I think there are a lot of things that are largely going undiscussed, which are areas I want to explore. There conversations around intersectionality that I think are not really being had. We focus a lot on things like race, but we don't necessarily focus on areas of class upbringing, LGBTQA+, etc. that really are integral to people's DNA. And when we look at what's most valuable about the work, the creative process, what we do as communications professionals, it's about the people. And I think there are certain industries that are really starting to get that.
Stella: Right, there's so much more that makes up a person than is focused on. All of that forms the type of work they produce.
Javier: When we look at the writer strike, which I know has just ended, people are starting to recognize the value of their work, their ideas, their creativity, and there's a need to fight for that. And I think some industries are doing that. I kind of question and wonder what our industry is doing around that. And I think even it's exacerbated by things like AI and emerging technologies where there's a lot of excitement around what that can create and how that can maybe streamline certain things from a workflow perspective. But I wonder what the human cost of that sort of thing is.
Stella: Wow, interesting. Do you find that with the presence of AI in your classroom is a challenge that you have to face? I feel like even within my classrooms it's an ongoing conversation of "how much do you use it, what do you use it for, what's acceptable?"
Javier: I think everyone's starting to really wrap their minds around that. It wasn't until last November that those kinds of technologies really hit some sort of critical mass area. A lot of my focus in classroom conversations up until now has largely been around the ethics of how and when and why to use these technologies. It becomes a question of the reliability of that information. Is it credible? Is it accurate? Is it timely? That kind of thing.

My concern with my students is largely around how do I make them critical thinkers? How can I help them learn how to use these tools, but have the level of savvy and intelligence to think critically about what they're seeing? Is it right, is it accurate? And then from there, being able to translate that information into their voice. So my biggest concern, and this is me just being the professor in the room, I don't want AI to replace my students' voices.


Stella: If they're relying on ChatGPT's voice, that's no longer their story, their personality to tell. Aside from navigating AI in the classroom, what's the biggest challenge you face in your new role at the Ad/PR program at CCNY?
Javier: I think history repeats itself. I think with as much as I've grown and as much confidence as I've gained over the years, I think that finding and building my voice is something that continues to be a challenge. And it's not for a lack of anything I've done in the past, but I think it's more so that there are some strong stances and areas of study and projects that I want to take on. And it's because I don't see anyone doing that, or at least not as loudly as I want to. So I'm excited more than anything. There's so much possibility, and it's really a question of how I prioritize that and make the most of all of that, which is intimidating.
Stella: So you come back to help with BIC a lot, whether it be in panels or supporting Nancy with Corporate Capstone. So what motivates you to do that? What makes it a priority for you?
Javier: Yeah, you can't forget where you came from, the good, the bad, and the ugly. I mean, sometimes you get to the point in your career where you want to kind of isolate yourself and your excellence, you know what I mean? Just always be in that place, and that's really not what makes you thrive. Sometimes it's just about getting into the weeds and getting messy.
I just like to keep it real with folks. I get to wear that hat and do so in a way that identifies with where the students are at that point in their career, but also is able to tap into the academic side of me that's able to translate the feedback that they need into something that is actionable, which I think is important.
>><<
Our thanks to Javier for sitting down with us for this interview, which has been edited for clarity and conciseness.
---
Recommended Posts
---
<< Previous post
Next post >>