BICsters Rising High
By BIC CCNY Posted on 11/02/2021 11:09
Bravo Yasin, Mary, Jael and Nicole for landing new roles and showing where a BIC degree will take you.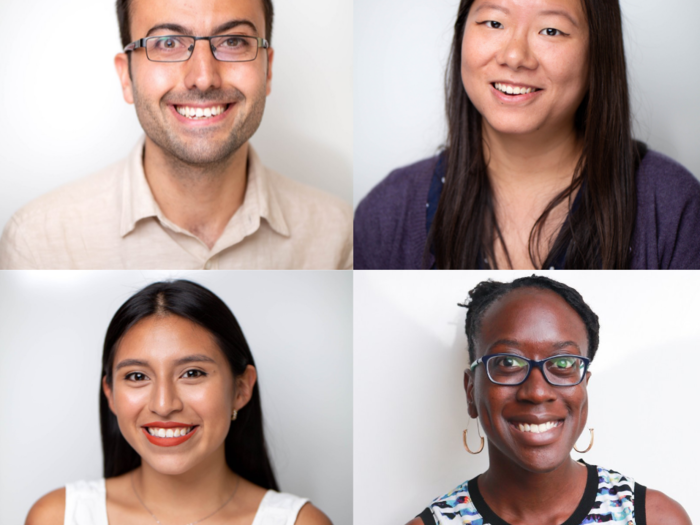 From research to graphic design to communications, these four BIC alum are rising high. Bravo to Yasin, Mary, Jael and Nicole for landing new roles and showing where a BIC degree will take you.
Yasin Usta
BIC '21
is now a Research Analyst at
Benenson Strategy Group
(BSG), a premier consulting and strategic research firm built on their relentless pursuit of the right answer. At BSG, they provide political leaders, non-profit organizations, and corporations with strategies. Yasin will be working primarily on corporate accounts. Prior to this, Yasin was a Creative Strategy & Research Intern at TH Experiential and a Research Assistant at the City College of New York.
Mary Ma
BIC '21
recently got a job as a Graphic Designer at
Datalot
, a full-stack marketing and analytics platform purpose-built to address the complex digital distribution needs of the insurance industry. Mary is specifically working on static and video ads for social media, pre-production and post-production data analysis, logo design branding, and more. Prior to this move, Mary worked as a Graphic Designer at the NYC Department of Transportation for over three years.
Jael Tusa
BIC '21
just landed a role as an Account Coordinator position at
Hunter PR
, an award-winning consumer marketing communications firm with offices in New York, Los Angeles and London and partnerships that extend their reach globally. Jael is currently on the health and beauty team, working on pitching and send outs for the holidays on accounts: Batiste, Nair, Waterpik Oral Care and styling tools: Bed Head, Revlon and Hot Tool. Previously, Jael worked as a College Aide at NYC Citywide Administrative Services.
Nicole Marie Alexander
BIC '20
is now a Senior Communications Manager at
Amref Health Africa in the USA
. Amref Health Africa is the largest health development non-governmental international organization based in Africa, committed to increasing sustainable health access to communities in Africa. The Amref Health Africa in the USA office raises awareness and critically needed funds for their work in Africa. Before joining Amref, Nicole was a Qualitative Research Assistant and Communications Specialist for nearly 6 years at the CUNY John Jay College Research and Evaluation Center.
Congratulations to our BICsters! Keep on rising...
---
Recommended Posts
---
<< Previous post
Next post >>