Glenn Sanders and Rob Schwartz "Ambush" BIC Round Robin Zoom
By BIC CCNY Posted on 05/06/2022 10:00
Just another exciting day at BIC!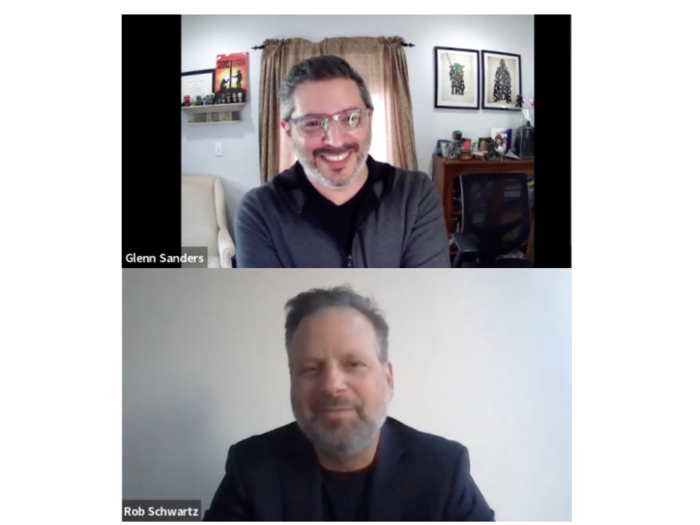 A big BIC Bravo to
Glenn Sanders
and
Rob Schwartz
for ambushing BIC's Round Robin class last week and inspiring aspiring creatives with the 5x5 creative tool!
In a recent article for Medium, Glenn describes the 5x5 method as "bringing at least five original campaign concepts to the big board every day for a 5pm check-in. Five new ideas by 5pm each day until we found THE idea. Just five teams, doing that for just five days would generate at least 125 campaigns." He added "5x5 gave me the freedom to concept quickly and not fear the outcome. Five ideas by 5pm every day till you find THE idea. It's there, in the deep, if you keep calm and fish on." After CEO of
TBWA\Chiat\DayNY
and BIC Board Member Rob Schwartz shared Glenn's article, it blew up and soon many people were thinking about how to apply the 5x5 method in their own creative endeavors.
On the Zoom "ambush" Glenn said "it was an enlightening experience to meet these students and get their perspective, always inspiring to see Rob's mind at work again (the consummate pro in all situations), and a lively discussion about the idea of ideas and how to generate a lot to find The One. I had no expectation of more than 5 people reading the piece, just felt like something worth writing about, and yet a whole string of good things happened as a result. You never know what might happen if you listen to that little voice in your head…"
You can read Glenn's full article
here
.
THANK YOU Glenn and Rob for crashing the BIC Zoom and inspiring our BICsters!
---
Recommended Posts
---
<< Previous post
Next post >>