Why Health Marketing Matters Now More Than Ever: Klick Health's Amy Gómez and Carl Turner
By BIC CCNY Posted on 04/05/2021 17:00
"The reality of what's happening in the state of healthcare right now in this country is no joke. We have a very serious problem and it's going to require work from every angle, including healthcare, communications and Pharma advertising." - Klick Health's Carl Turner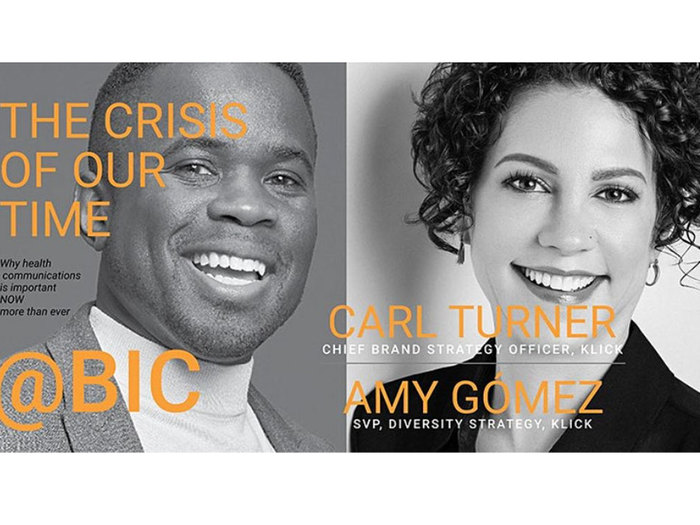 On Wednesday March 17th, 2021, BICsters and Klicksters collided when BIC welcomed
Klick Health
's
Carl Turner
, Chief Brand Strategy Officer and
Amy Gómez
, VP of Diversity Strategy, for an important conversation on "The Crisis of Our Time: Why health communications matters NOW more than ever." During the hour long lecture, Amy and Carl guided the audience through an important discussion on how we can use our voices to shape the health conversation, set public policy, and make the world a better place.
Kicking off the discussion, Carl talked about the misconceptions around health marketing, noting that when most people think about Pharma ads, they think of jokes about advertising. He corrected this stating that "the reality of what's happening in the state of healthcare right now in this country is no joke. We have a very serious problem and it's going to require work from every angle, including healthcare, communications and Pharma advertising."
Amy echoed Carl's point noting how in addition to the misconceptions around healthcare, there are serious disparities and massive inequities in care especially in communities of color.
So how do we solve this problem? Carl stated that "when it comes to healthcare, it's critical that we get there with diverse people being at the helm helping to contribute to this crisis, using their knowledge, skills and lived experience." Amy added that it works in tandem with communications and that "more representation is needed in the advertising industry…it's an issue throughout the whole ecosystem."
Through their work at Klick, Amy and Carl are working to address these issues. One example they shared came from CVS and Aetna who paired up to go out into communities of color to let women know that they could take aspirin as a way to help with preeclampsia. This project came about after research showed that "preeclampsia is happening at a rate 61% higher for black women than white women."
They also discussed their "Rise Above COVID" cross-cultural marketing campaign for the
ACTIV-2 trial
, a nationwide clinical trial to evaluate potential treatments for early COVID-19. Klick is working to recruit a more diverse set of participants into the study to ensure that the nation's diverse population is represented in the trial. They recently helped launch a pilot program that brings the campaign into Black-owned barbershops and salons, with the goal of increasing the number of Black participants.
Finally, BIC Program Director,
Nancy R. Tag
thanked Amy and Carl for their amazing work and powerful presentation. Nancy commented on the heightened importance of healthcare access and equity. "As everyone has seen tonight, this is something that we in the communications field are very capable of addressing -- and prioritizing."
Thank you Amy and Carl for an amazingly thoughtful examination of health communications and why it matters today more than ever. We couldn't ask for two better experts to guide us through this truly important and timely discussion.
---
Recommended Posts
---
<< Previous post
Next post >>