PJ Pereira @BIC Lecture: AI Anxiety – How To Be Fearless and Use AI to Unleash Your Creativity
By BIC CCNY Posted on 11/15/2023 13:53
The Fall @BIC Lecture was held on campus, led by the Co-Founder and Creative Chairman of Pereira O'dell PJ Pereira.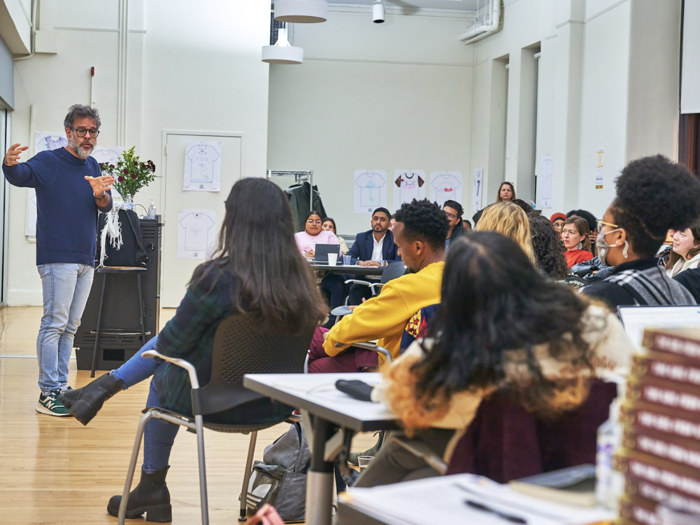 Over the years, our @BIC Lecture Series has featured industry thought leaders, provocateurs, authors, and philosophers. Last Wednesday, November 8th, BIC welcomed PJ Pereira to campus to deliver his lecture "AI Anxiety: How to be fearless and use artificial intelligence to unleash your creativity." As a best-selling author and Co-Founder/Creative Chairman of Pereira O'Dell, PJ Pereira is a little bit of all those things, rolled into one.



PJ's lecture captured the essence of the hottest topic right now >> artificial intelligence: the good, bad, and scary. The rise of AI is ramping up and, like any other technology, it comes in waves that we cannot control. PJ believes this presents us with two clear choices, "Either get in the water and learn to surf… or run towards the shore."
He also addressed the question of how AI will affect creativity - and more so, how AI is making us rethink what we define as creativity. For creative professionals, the biggest question is: "Where do I fit in the process now?" PJ proposed that a true creative will have to be able to see things that no one else thought possible; something that the machine can then work with.


To exemplify the magic of artificial intelligence, PJ showed an AI-generated video that dramatized a snippet from his latest book, The Girl From Wudang, creating a visually arresting kaleidoscope with music and voiceover. Before wrapping up the evening, ten lucky attendees received signed copies of PJ's book, a genre-bending novel that intertwines the worlds of immortality, martial arts, and artificial intelligence.
Thank you PJ, for this topical and necessary lecture on AI Anxiety! Looking forward to more conversations (and books) to come…
---
Recommended Posts
---
<< Previous post
Next post >>