Translation Culture Catalysts Steve Horn and Castro Desroches >> @BIC Lecture LOVE ME. LOVE ME NOT: Culture, Activism, and Creativity
By BIC CCNY Posted on 12/08/2021 10:00
"If anyone's going to do it, it's going to be us, because we care that much to do it right."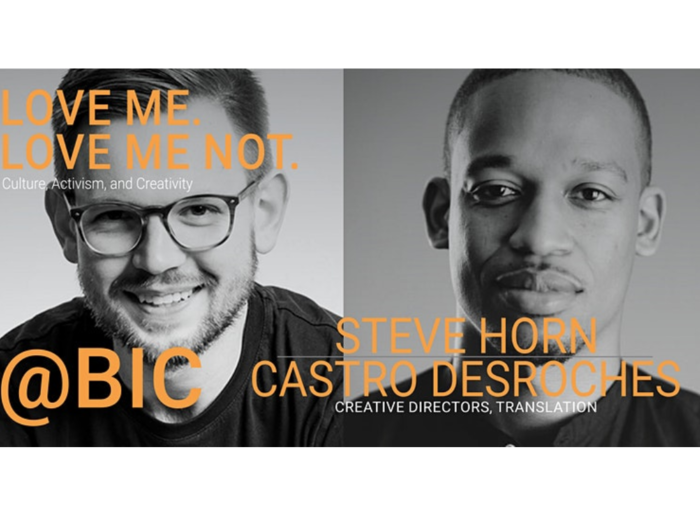 This Fall, BIC welcomed culture catalysts and
Translation
Creative Directors
Steve Horn
and
Castro Desroches
BIC '16
for the first @BIC Lecture of the Fall 2021 semester: "LOVE ME. LOVE ME NOT: Culture, Activism, and Creativity."
BIC Program Director and Professor
Nancy R. Tag
had the honor of leading this powerful discussion which focused on Translation's award-winning spot for Beats by Dre "
You Love Me
." The spot asks America this thought-provoking question: "You love Black culture. But do you love Black people?" During the hour-long conversation, the creative duo took the audience on an adventure through the intricacies of the spot which was directed by Melina Matsoukas (Queen & Slim) with music by Solange Knowles.
IT ALL BEGAN… with a request to promote new colors for the Beats by Dre Powerbeats Pro headphones.
AND THEN IT TURNED INTO…a 2 minute tour de force of cultural storytelling that aired during the NBA draft. The spot's evolution speaks to the complexities of truly listening to a client that is immersed in the culture – and how transformative communications can be when based in brand authenticity.
SEIZING the MOMENT. The tragic death of George Floyd demanded new thinking. Should Beats be a part of this charged national conversation? If so, how? Steve remarked how "that moment made everyone stop and think about what they were doing and their place in the world, especially Beats who looked at itself as a brand that still bears the name "Dr Dre" on the company door."
THE TWISTS and TURNS of CREATIVITY. After coming together as a team to combine creative forces they asked, "do headphones actually make any sense to be talking about right now? Do brands have a space to play at all, and if they do, what can they logically do and say that makes a difference?" These important questions demonstrated how this spot was the beginning of a bigger cultural conversation and how there was now an opportunity for Beats to not only be part of it but to shape it.
INTEGRITY and INTENTIONALITY. Steve and Castro spoke of their passionate ownership of the project. At one point, Castro remarked "if anyone was going to deliver on this project, it's going to be us, because we care that much to do it right." Steve and Castro understood that their message transcended a typical commercial effort and that they needed to work with the Beats brand to be intentional at every step and in each detail: from the "You Love Me, Love Me Not" audio to the chosen celebrities … even down to the plates on the dining room table featured in one of the scenes.
A BIC-like EFFORT. Nancy remarked how this spot put BIC principles into action: "BICsters work in a cross-disciplinary and collaborative environment in order to explore how brands add value to a company, its community and society. This is what makes Steve and Castro's branding effort for Beats by Dre the perfect focus for tonight's @BIC Lecture. You two are activists without even realizing it."


Thank you Steve and Castro for joining us and giving us an inside look into a spot that has not only cleaned up at the 2021 award shows, receiving a Grand Clio, Cannes Titanium Lion, seven ONE Show Gold Pencils, etc., but is changing the narrative around culture, activism and creativity.
Watch how activism informs the creative work of Steve and Castro — and vice versa in the full recording
HERE
.
---
Recommended Posts
---
<< Previous post
Next post >>