BIC Breaks Records >> 8 TLF Scholarship Recipients!
By BIC CCNY Posted on 04/21/2023 15:20
A total of 8 BIC students, current and incoming, are recipients of The LAGRANT Foundation's 2023 scholarship.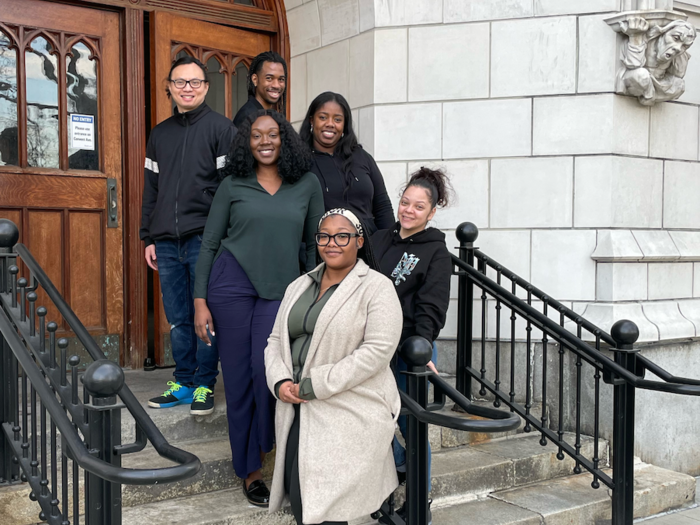 Congratulations to SIX BICsters from the Class of 2024 who won the prestigious
The LAGRANT Foundation
(TLF) scholarship:
Kamillah Collins
,
Roderic David
,
Stephana Eghan
,
Bianca Fernandez
,
Jade Holiday
, and
Jason Liu
. And congratulations to TWO incoming Class of 2025 BICsters who were also awarded the TLF scholarship:
Dana Dang
and
Britney Huston
.
A recent ADCOLOR Futures award winner and 2019 MAIP Fellow, Kamillah Collins is currently a senior strategist at Ogilvy and a graduate of CUNY/City Tech, Class of 2020. Roderic David, a 2015 BFA/BA graduate of The New School, double majored in Communication Design at Parsons and Culture & Media at Eugene Lang. He's currently a Senior Manager at Hearst. Stephana Eghan is part of BIC's inaugural media track and currently a manager of media planning at dentsu X. She's a 2017 graduate of CCNY's AdPR Program. Bianca Fernandez received her BA in Latin American and Caribbean Studies at SUNY/New Paltz in 2015 and is currently working as an associate at GoldenSeeds. With a 2020 BBA from Brooklyn College, Jade Holiday is a media analyst at Fox. Jason Liu, also a graduate of CCNY's AdPR Program (Class of 2016), is a media planner at McCann. Jade and Jason are also part of BIC's inaugural media track. From our incoming class, Dana Dang joins us from Texas A&M where she'll graduate with a BS in Psychology this spring. Britney Huston is a native New Yorker who'll receive her degree in Digital Media Production from SUNY/New Paltz in May.
Celebrating its 25th year, TLF awarded a total of $250,000 in scholarships this year to a select group of ethnically diverse college & university students across the nation. BIC's eight awardees represent more than a quarter of the graduate students receiving $3,500 scholarships, hailing from colleges such as Georgetown, University of Chicago, Columbia, and University of Southern California.
BICsters have been recipients of a TLF scholarship every year since our launch in 2013 and has fielded more scholarship winners than any other school in the country. Past BIC scholarship winners are:
Fred Garcia
and
Amber Jackson
,
BIC '15,
Donna Dei-Baning
,
BIC '16,
Dalisbeth Galvez
,
Melissa Julien
,
and
Priscilla Parra
,
BIC '17,
Charisse Holder
,
Erica Lopez
,
and
Sean Feol-Baugh
,
BIC '18,
Jennifer Cuffari
,
LaToya Heron
,
Amera Lulu
,
Kelvin Morales
,
and
Rebecca Rivera
,
BIC '19, and
Mohamed Amribet
,
John Holliday-Stewart
,
Carlos Matias
,
Carmen Quang
,
Raymond Sein
,
and
Kamattie Singh
,
BIC '20, and
Paul Bernabe
,
Dimandja Utshudi
,
Ayush Kumar
,
BIC '21,
Isabella Santana
,BIC '23 (twice),
Sabrina Khan
,
BIC '23 (twice) and
Hanako Suzuki
,
BIC '23.
For the 25th anniversary, TLF will celebrate by hosting three scholarship programs in New York, NY, Portland, OR and Minneapolis, MN. Throughout the multi-day event in NYC, scholarship recipients will participate in exclusive professional development and networking opportunities hosted by
General Motors
,
Omnicom Public Relations Group
,
Bayer US
,
Procter & Gamble
,
Ralph Lauren
,
Nike
,
Wieden + Kennedy
,
IW Group
,
Medtronic
,
Weber Shandwick
and
United Health Group
.
The LAGRANT Foundation will recognize this year's scholarship recipients during three ceremonies starting in New York May 8th, Portland May 15th, and ending in Minneapolis on May 22nd.
A BIG BIC Brava to Kamillah, Roderic, Stephana, Bianca, Jade and Jason – to Dana and Britney, too! We're so proud of you!
You can read more about the 2023 LAGRANT Foundation Scholarship
here
.
---
Recommended Posts
---
<< Previous post
Next post >>