THREE BICsters from the Class of 2023 Win The LAGRANT Foundation Scholarship
By BIC CCNY Posted on 04/27/2022 10:00
Congratulations to THREE first year BICsters who have won the prestigious The LAGRANT Foundation (TLF) scholarship: Hanako Suzuki, Sabrina Khan and Isabella Santana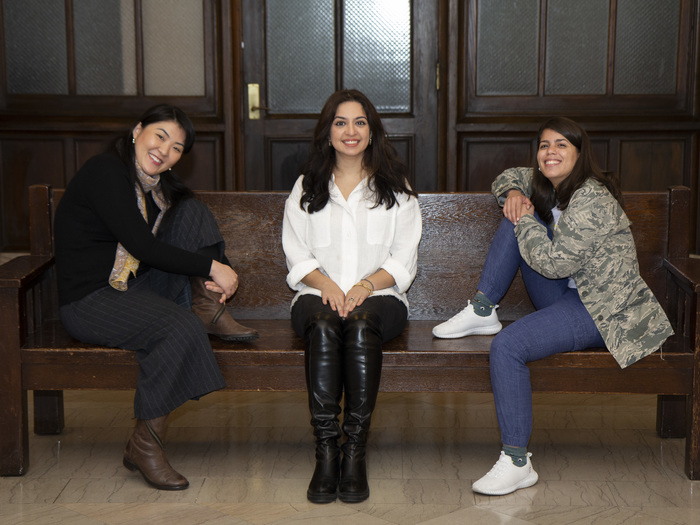 In a powerhouse showing, they are among just 20 graduate students nationwide to receive a TLF scholarship whose winners share the foundation's mission of increasing ethnic diversity in the advertising, marketing and public relations industries. Hanako, Isabella and Sabrina will each receive $3,750 and join an impressive list of students from institutions such as Columbia University, Harvard, University of Pennsylvania, Northwestern, and University of Chicago. Bonus fact >> BIC joins UCLA as the only school with three winners (out of 20 total recipients)!!
Hanako is a bilingual/bicultural Japanese American copywriter who received her BA in Creative Writing and Photography from
Sarah Lawrence College
. She is now a copywriter for Macy's. Sabrina is a Jr. art director at Biolumina. She was the valedictorian of the
CUNY New York City College of Technology
Class of 2020 and earned her degree in Communication Design/Advertising. Isabella is another CUNY All-Star having graduated from The
City College of New York's Ad-PR Program
in 2020. She's currently an associate manager, integrated media planning at OMD USA.
Celebrating its 24th year, TLF has generously awarded over $100,000 in scholarships to graduate students from the BIC program at The City College of New York — more than any other single college. BICsters have been recipients of a TLF scholarship every year since our launch in 2013. Past BIC scholarship winners are:
Fred Garcia
and
Amber Jackson
, BIC '15,
Donna Dei-Baning
, BIC '16,
Dalisbeth Galvez
,
Melissa Julien
, and
Priscilla Parra
, BIC '17,
Charisse Holder
,
Erica Lopez
, and
Sean Feol-Baugh
, BIC '18,
Jennifer Cuffari
,
LaToya Heron
,
Amera Lulu
,
Kelvin Morales
, and
Rebecca Rivera
, BIC '19, and
Mohamed Amribet
,
John Holliday-Stewart
,
Carlos Matias
,
Carmen Quang
,
Raymond Sein
,
Kamattie Singh
, BIC '20, and
Paul Bernabe
,
Dimandja Utshudi
,
Ayush Kumar
, BIC '21 and more recently
Isabella Santana
and
Sabrina Khan
BIC '23.
The LAGRANT Foundation has provided 703 scholarships and $2.9 million since its inception in 1998. Founded by Kim L. Hunter, its mission to increase the number of ethnic minorities in the fields of advertising, marketing and public relations is generously supported by its major donors and supporters. TLF provides students with career & professional development workshops, scholarships, internships, entry-level positions and mentors to African American/Black, Alaska Native/Native American, Asian American/Pacific Islander and Hispanic/Latino undergraduate and graduate students.
For the first time since 2019, TLF's scholarship program will be held in-person in New York City.
Procter & Gamble
Chief Communications Officer, Damon Jones, and
Marina Maher Communications
CEO & Founder, Marina Maher, will serve as this year's Host Committee Chair and Co-Chair, respectively. Scholarship recipients will participate in exclusive professional development and networking opportunities hosted by General Motors, Google, Marina Maher Communications, Procter & Gamble and Walmart.
The LAGRANT Foundation will recognize this year's scholarship recipients during a ceremony on May 16th here in New York City.
A BIG BIC Brava to Hanako, Isabella, and Sabrina! We're so proud of you!
You can read more about the 2022 LAGRANT Foundation Scholarship
here
.
---
Recommended Posts
---
<< Previous post
Next post >>