BICster > Alum > Faculty: Donna Dei-Baning Does It All
By BIC CCNY Posted on 11/30/2021 10:50
"What I'm most looking forward to is learning from my students."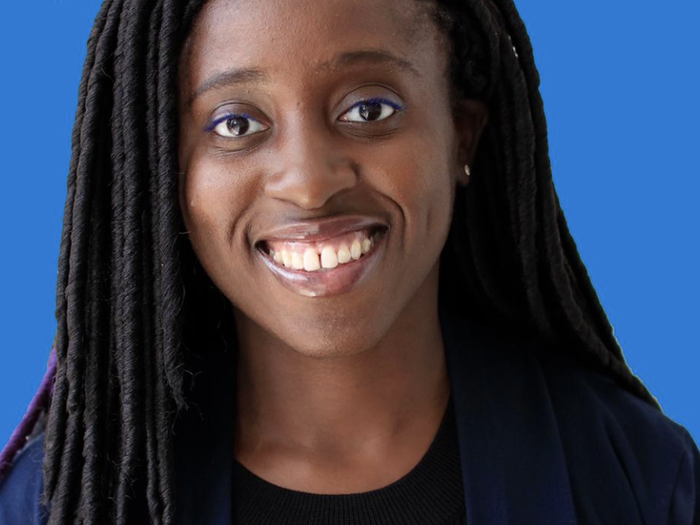 As a member of the BIC Class of 2016,
Donna Dei-Baning
was a true rock star: she helped her team win the corporate client pitch (creating a campaign for UMG's Jack Garrett), was awarded a 2015
LAGRANT Foundation
scholarship, and graduated with distinction earning the highest GPA. She quickly landed a job at
The New York Times
T-Brand Studio as a strategist before moving to Carat where she's now Director of Audience & Insights. In 2020, she was the recipient of the AD Club's i'mPART Fellowship. This summer, BIC got lucky when Donna agreed to take over BIC's foundational course in Research & Awareness -- at the urging of BIC Program Director Nancy Tag and VMLY&R Chief Strategy Officer Belle Frank who developed and taught the course since the BIC program launched in 2013.
A few weeks ago, BIC sat down with Donna to hear more about her journey from BICster to faculty, how she plans to bring her current role into teaching at BIC and her advice for current and future BICsters…

Can you talk about your journey from a BICster to alum to now faculty?

I started the BIC program in Fall 2014. It was a challenging experience in so many ways. I was working full-time in Brooklyn so leaving work to go "up the hill" three times a week for two years was probably one of my least favorite things to do; second only to taking the 2-hour trip back home once class was done. What also made this challenging – in a good way – is that I had been out of the ad agency world for a couple of years and at the time was working in education and so with BIC being a practical program it forced me to use my brain in a different way than I was in my day job. BIC allowed me to tap into my creative and analytical sensibilities and I loved that. Taking Belle Frank's Research class in the fall and then Zontee Hou's Consumer Behavior & Persuasion course in the spring cemented for me the type of work that I wanted to transition to in the future. My first job post-BIC was working with The New York Times' award-winning T Brand Studio in a consumer insights role. Then I took my talents to Carat, a media agency within the Dentsu network and I've been at dentsu for almost three years now. By day I'm the Director of Audience and Insights at dentsu and now, by night, a proud professor at BIC teaching the foundational Research & Awareness course.

Tell me about your current role and how it's prepared you to bring something new to this foundational BIC class that you took back in 2014.


My current role as Audience & Insights Director is a pretty dynamic one. One day I may be developing an audience strategy for a client who's looking to increase usage of their product and the next I may be doing a deep dive into cultural trends to determine how it affects and impacts a specific audience in order to develop a true human insight. Research today can take so many different shapes – it's not just surveys and focus groups – and in creating my lesson plan for this class I wanted to make sure that the content touched on the different (and sometimes untraditional) ways that research can be collected. I also want to give a huge shoutout to Belle Frank for guiding this first-time professor through the process of developing the class and making it my own.
How will you bring your experience at BIC into your teaching?
I'm constantly thinking about the way in which my students are experiencing the program right now and harken back to my personal experience in the program. What other classes are they taking right now? What topics, tools or ways of thinking will be useful next semester? How can I prepare them for their capstone courses next year? What will help them enhance the work in their portfolios? These are some of the questions that help me shape my class in a way that I hope proves to be valuable to them throughout their BIC journey and beyond. I also know firsthand how taxing it can be to balance working with being a full-time BICster and so I always lead with empathy.
What are you looking forward to most about teaching at BIC?
What I'm most looking forward to is learning from my students.
How has BIC helped you in your career?
My first post-graduation job was at The New York Times which came about because I told BIC Program Director and Professor Nancy Tag that I was interested in pursuing consumer insights professionally. She connected me with the NYT Marketing Director at the time who was also a friend to the program. Over coffee (or maybe it was tea because I don't drink coffee), we realized that we both graduated from Dartmouth College (hey, Liz!). She had an opening on her team for a Creative Insights position. I interviewed for the role and the rest is history! That job aside, mentorship is something that I am passionate about. BIC has provided me with opportunities to mentor and connect with rising talent through things like being a coach for MAIP Fellows and reviewing portfolios for BIC students.
What made you choose the BIC program at The City College of New York over other places?
For me, it was either going to be NYU or City College. I chose the BIC program because I was excited about gaining foundational knowledge of the advertising discipline as well as having the opportunity to learn from and create alongside active professionals – people who were doing the work, not just talking about the work. Also, the value of a CUNY education is unmatched!
What's one piece of advice you would give to current or future BICsters?
Just one? Stay passionately curious.
Albert Einstein states, "I have no special talents. I am only passionately curious." What is the difference between being curious and being passionately curious? Long-term sustained learning. Too much curiosity could easily lead one down a rabbit hole; but for me, curiosity has been an emotion that represents my constant thirst for knowledge. Pursuing a graduate degree is the next step in my journey, and I am excited to see where it will lead me." (an excerpt from the personal statement I submitted as part of my application to the BIC program in 2014)

>><<


Our thanks to Donna for sitting down with us for this interview, which has been edited for clarity and conciseness.
---
Recommended Posts
---
<< Previous post
Next post >>