BIC Helps Shape The Future – Harlem 2032 Showcase
By BIC CCNY Posted on 02/21/2023 16:16
Harlem-based work from BIC Non-Profit Capstone was presented to the CCNY Community.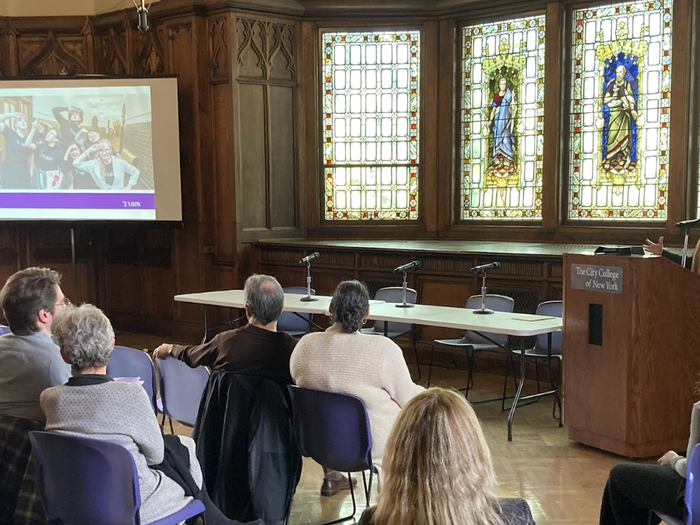 The Harlem 2032 Community Engagement Showcase took place on Friday, February 3rd, 2023 in Shepard Hall 250 from 10am – 2pm. Fourteen projects from across CCNY campus that impact Harlem were chosen to make a presentation, including BIC's "Transforming Grief into Action for Harlem Mothers S.A.V.E" presented by Program Director Nancy Tag.
In their final fall semester, BIC students in the Class of 2023
partnered with Harlem Mothers S.A.V.E
. a grassroots organization founded in 2006 by
Jackie Rowe-Adams
, a local Harlem mother and activist, with the support of then New York State Assemblyman
Keith L. T. Wright
. After losing two sons to gun violence and seeing gang violence and shootings rising daily, she turned grief into action and used her organization to help keep other families from experiencing the life-altering agony of losing loved ones to senseless gun violence. Professor Tag featured one of the student campaigns, "The Language of Grief," in Friday's showcase forum which served as the kick-off event for Harlem 2032, a decade-long initiative. Together, CCNY and leaders in Harlem will work to address issues of climate change, economic disempowerment, health disparities, inequities in housing, education, and more within the community. Its mission: bring "Harlemites" together in this next decade to celebrate and enrich the vivid culture of Harlem.
To learn more about the BIC capstone project, click >>
here
---
Recommended Posts
---
<< Previous post
Next post >>