BICster Popular Cross-Cultural Marketing Intensive Returns Fall 2023
By BIC CCNY Posted on 11/02/2023 14:30
Amy Gómez teaches Cross-Cultural Marketing one-credit course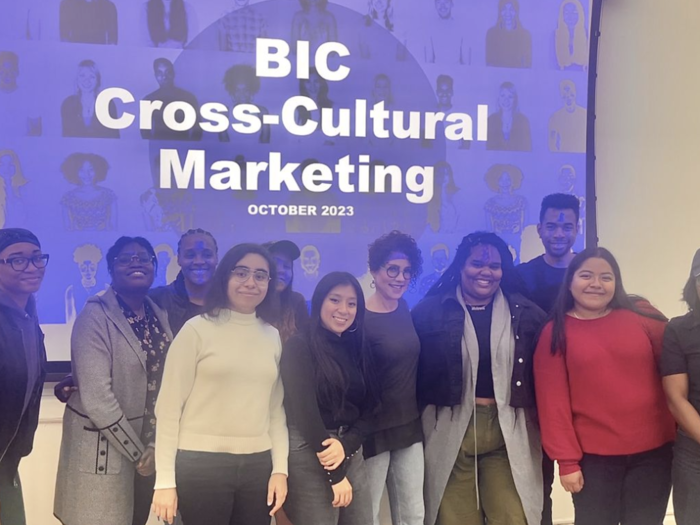 For the past two weekends, BICsters did a deep dive into Cross-Cultural Marketing led by Professor
Amy Gómez
on campus in Shepard Hall at The City College of New York. Students seized this opportunity to take this course, as it's not offered every year. They dove into what is the 'majority minority' reality that is already true in many individual DMAs including Los Angeles, Dallas and Miami. And why understanding the unique characteristics and drivers of these cultural segments is essential for any 21st century marketer.
This topic is right in Dr. Gómez' wheelhouse: As SVP Diversity Strategy, she leads the Cross-Cultural Marketing capability for Klick, the world's largest independent commercialization partner for life sciences, drawing on her 20+ years of experience helping Fortune 500 clients communicate effectively with diverse consumers. Dr. Gómez has led integrated Hispanic, African American and LGBT marketing initiatives for clients including Pfizer, Citibank, Amtrak and HBO, as well as non-profit organizations, including Drug-free America, Adopt-US-Kids (via the Ad Council), and the American Heart Association.
The benefit of having industry pros be your professor at BIC is their connections come to the classroom. During the course, Dr. Gómez brought a plethora of guest speakers:
Victor Paredes
, Executive Director Multicultural Planning at The Collage Group,
Darren Wesley Martin Jr.
, Founder and CEO of BOLD Culture, Communications,
Juan Bonilla
, Managing Director at Walton Isaacson,
Kristin Tolbert
, VP, Cross-Cultural Marketing at Klick Health, and
Giancarlo A. Pacheco
, CEO at Plan C Agency UM Worldwide.
Thanks to Dr. Amy Gómez for this enlightening course!
---
Recommended Posts
---
<< Previous post
Next post >>