Pitch Like You Mean It >> Fall 2021 Capstone On Behalf Of The CUNY School of Medicine
By BIC CCNY Posted on 12/28/2021 10:00
A BIG BIC Congrats to the Class of 2022 for an amazing evening of pitches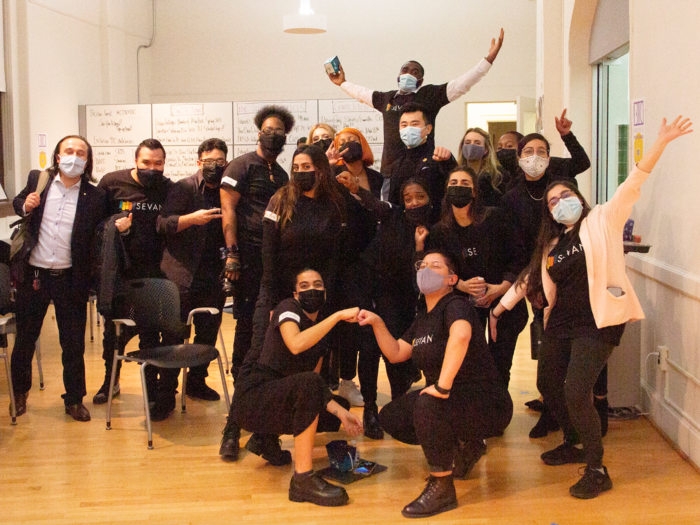 On Thursday, December 16, 2021, the BIC Class of 2022 pitched their final integrated marketing campaigns to the non-profit capstone client: The CUNY School of Medicine. With the guidance of Professor
Katina Scott
and
Brianna Bishop
, teams were tasked to raise awareness among new and existing donors of the outstanding work the CUNY School of Medicine does to increase quality healthcare for underserved communities and impact healthcare disparities.
Divided into three interdisciplinary teams, BICsters from each track utilized a cross-disciplinary approach to create distinctive integrated marketing communications campaigns based on a client briefing delivered by former CSOM Executive Director of Institutional Advancement, Bob DeMicco, Jr., Deputy Dean, Dr. Erica Friedman, MD, FACP, Executive Director of Admissions, Wellness & Counseling, Dr. Jodie Meyer, Associate Dean for Student Affairs, Dr. Dani Mcbeth, Chair of the School's Executive Advisory Board, Dr. Marthe Gold, Assistant Dean, Academic & Faculty Affairs, Annabel Santana-Colón, M.P.H. and Dean of The CUNY School of Medicine, Dr. Carmen Renee Green, M.D at the beginning of the fall semester.
The first of the teams, In8 Studio, kicked off the pitch with their 'Own Your Impact' campaign. After their research discovered that donors feel like ATMs and that organizations only come to them when they need money, they developed the 'Own Your Impact' campaign to show how giving to CUNY School of Medicine goes beyond and is instead a commitment to a long-term relationship and legacy, rather than a one-time financial transaction. Their executions leaned into the idea that CUNY School of Medicine students are never alone and that in fact donors are there at every step of the way supporting them and owning their impact.
The second team, Sevan, proposed rebranding the school from the CUNY School of Medicine to CUNY Med. They then walked the client through their campaign which took a New York City approach, asking what do CUNY Med and New York City have in common? Both are home to diverse communities that need help. By making this link, Team Sevan was able to make the case that every home needs to be treated equitably. Their line "New York is at its best when CUNY Med is at its most vital" appeared throughout the campaign.
The final team, Socius, most directly connected New York City's identity with the CUNY School of Medicine by noting that New York City's net worth is the total health of its people. By positioning the school as the engine that "Keeps New York GOING," their campaign aimed to offer donors a once in a lifetime opportunity to invest in the most lucrative deal ever: the health of New York City. Their executions highlighted the importance of CUNY School of Medicine in keeping New York going and the impact the school is having on the healthcare system.
Each group presented for 35 minutes to their peers, audience members, and judges. In the end, the client could only pick one winner: Sevan took home the trophy for their 'New York is at its best when CUNY Med is at its most vital' campaign!
The Non Profit Capstone is not only a signature requirement of the BIC program, but pivotal to next semester's Corporate Capstone taught by BIC Program Director and Professor Nancy R. Tag each Spring.
Past non-profit capstone clients have been CUNY Arts, Sandy Hook Promise, The Grove School of Engineering, Columbia Children's Health, The Colin Powell School for Civic and Global Leadership, the UJA, and
Memorial Sloan Kettering
for their research collaboration with CCNY: Redressing Access to and Disparities in Immunotherapy for Breast Cancer (READI).
A BIG BIC Congrats to the Class of 2022 for an amazing evening of pitches! Despite a challenging semester, you all proved that TEAMwork makes the dream work. And a big BIC Brava to Professor Katina Scott who makes this magic happen every year.
---
Recommended Posts
---
<< Previous post
Next post >>