Portfolio Defense 2022: The Greatest Show on Earth
By BIC CCNY Posted on 06/02/2022 10:00
Top scores in each track this year went to Jack Yu (Creative), Shadiq Williams (PR), and Amy Perez (MP)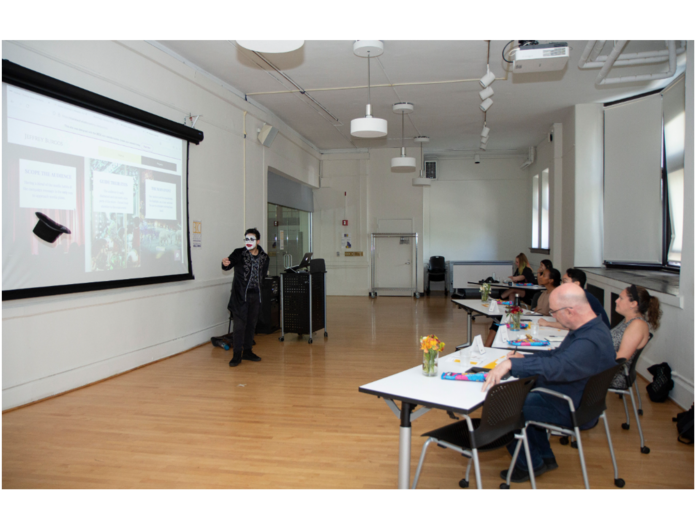 After a two-year COVID hiatus, BIC's Portfolio Thesis Defense was back on campus with four sessions of portfolio presentations in the disciplines of public relations, creative direction, strategy, project and brand management. As they have done throughout their time at BIC, the class of 2022 rose to the challenge and shined bright as they presented to our amazing judges.
This year's portfolios showcased projects on behalf of Corporate Capstone Client, Wells Fargo, Non-profit Capstone Client, CUNY School of Medicine, Governors Island, Dell, Ethel's Club, Victoria's Secret, and Betty Crocker.
It was a long but rewarding day. BIC students entered their allocated rooms one-by-one for their appointed 25-minute slot. Each session included 18 minutes of presentation and 7 minutes of judge's questions, comments, and push back. The entire Portfolio Thesis Defense then repeated itself in the afternoon.
BIC is especially grateful to this year's judges, which included four BIC alumni:
Natalie Alcide
(BIC 19) Senior Art Director, Grey;
Breanna Arthur
(BIC 19) Brand Moments Marketing Manager at YouTube;
Meg Deedy Loughney
, Group Strategy Director at Accenture Interactive;
Castro Desroches
(BIC 16) Group Creative Director at Translation;
Lee Doyle
, President of NitroC;
Hermon Ghermay
, Global Chief Culture Officer at MediaBrands;
Aisha Hudson
, Senior Technology Manager at Weber Shandwick;
Federico Mejer
, Platform Marketing at NBCUniversal;
Michael Parrott
, Creative Director at D'Rozario & Partners;
Rakia Reynolds
, Founder/Executive Officer at Skai Blue Media;
Michelle Rowley,
SVP Group Planning Director at Deutsch;
Liz Scordato
, Director Project Management at StrawberryFrog;
Ray Sein
(BIC 20) Senior brand Strategist at Droga5;
Benny Thomas,
Global Creative Strategist at Meta and
Peter Walpole
, Senior Manager Corporate & Digital Practice at Golin.
Congrats to the Class of 2022: BICsters celebrated their achievements at the BIC graduation party on Wednesday May 31st, 2022 following graduation. Top scoring BICsters in each track were announced. Honors went toShadiq Williams who scored top for Public Relations, Jack Yu who received the top score in Creative, and Amy Perez who topped the Management/Planning track.
Special thanks to all the BIC faculty and staff who helped support BICsters throughout their time in the program -- especially the faculty who taught the Portfolio Thesis Electives this year: Katina Scott, Gerardo Blumenkrantz, and Nancy R. Tag. BIC Program Manager Rebecca Rivera provided logistic and emotional support for the event while BIC Design Specialist Mira Steinzer guided the Class of 2022 in the technical and design aspects of their portfolios from the moment they enter the program.
---
Recommended Posts
---
<< Previous post
Next post >>