The Proof Is In the Portfolio: Pandemic Edition
By BIC CCNY Posted on 11/04/2020 19:08
"Portfolios are never done; they're something you work on throughout your entire career."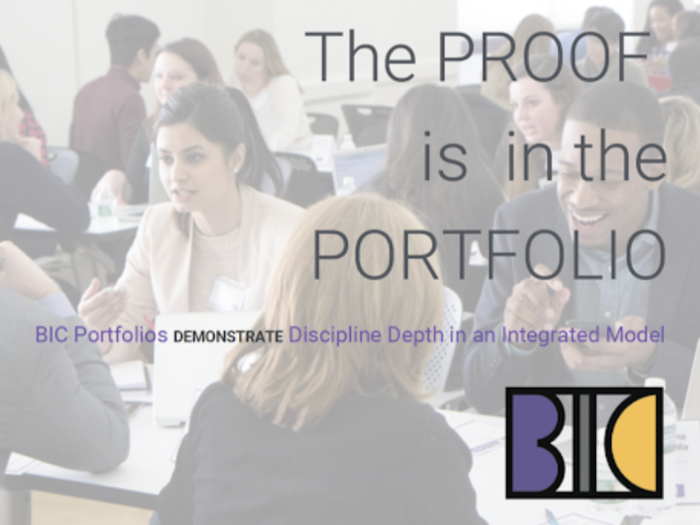 Each Fall, BICsters spend two Saturdays on campus for donuts, pizza and portfolio reviews. But instead of hanging in Shepard Hall this year, students in the Class of 2021 met virtually to showcase their portfolio progress remotely in the Zoom grid. The Fall Portfolio Reviews mark a major turning point in the development of second-year portfolios as BICsters drill down on both substance and style.


As a degree requirement, all BIC students must present their BIC portfolio to a panel of high-level professionals during graduation week in late May. Presentations are 25 minutes long: 18 minutes to present with 7 minutes to defend. Final BIC portfolios must demonstrate discipline depth in an integrated framework. Over the Summer, BICsters worked on developing their portfolios building on feedback they received back in the Spring.
Management + PR Portfolio Reviews were overseen by BIC Program Director and Professor
Nancy R. Tag
and Professor
Katina Scott
The Creative Portfolio Review was overseen by Associate Professor
Gerardo Blumenkrantz
.
While the Saturday events focused on the Class of 2021, BICsters from the Class of 2022 were also invited to get a glimpse into the portfolio process and get a head start on what is expected of them later in the program. BIC portfolios go beyond conventional definitions of a portfolio. They are pushed to be more than just a repository of work but vehicles of innovation + exploration. In addition, BIC portfolios must successfully demonstrate expertise in the 4PS: Product. Process. Personality. Professionalism.
While the pandemic may have transformed how the Portfolio Reviews were conducted,
Katina
remarked that BICsters now have a "unique opportunity to chart new ground in this space." The broad use of remote technology is altering the landscape of the industry and providing new opportunities for the communications world to expand, explore and innovate. Check out some of our BIC portfolios in progress:
Finally,
Nancy
remarked that "portfolios are never done; they're something you work on throughout your entire career." The Saturday sessions in September are considered a significant foundational event to kick off a highly productive semester before students enroll in their Portfolio Thesis courses in the Spring which will include the BIC PiP Recruiting Event and the Portfolio Bootcamp. It was incredible to see their portfolios at this point -- we can't wait to see what they do next!
---
Recommended Posts
---
<< Previous post
Next post >>