BICsters Pitch Wells Fargo To Define the Future Of Banking In This Year's Corporate Capstone
By BIC CCNY Posted on 06/01/2022 10:00
If these BIC campaigns have anything to do with it, the future of banking looks bright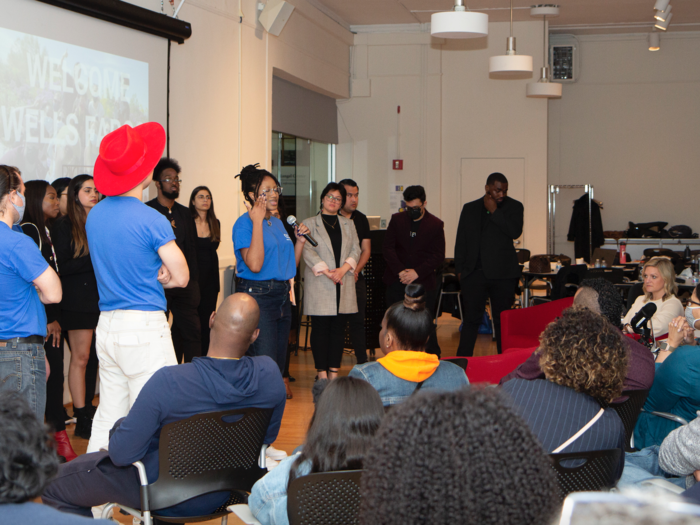 On Thursday, May 19, 2022, three BIC teams pitched powerfully to this year's Corporate Capstone Client, Wells Fargo. It was the first corporate capstone pitch in person since 2019 and our BICsters did not disappoint.
Back in February, Wells Fargo tasked three teams, Sevan, in8 studio & Socious, with developing a branding campaign that will help Wells Fargo define the relationship of the future with Gen Z by exploring what Gen Z consumers define as the essential tenets of a 'relationship' with their bank, including trends driven by this generation and the sub-segments within it.
Teams kicked off with a client briefing on February 10th where they met with Sukhi Sahni, SVP Brand Management at Wells Fargo, Tammy Levine, Head of Brand Management & Sponsorship at Wells Fargo, Kathryn Pedro, Integrated Marketing Campaign Manager at Wells Fargo, Lesley Gantt, Vice President, Marketing Program Manager at Wells Fargo, Howard Greenberg, Art Director at Wells Fargo, Erin Heaney, Assistant Vice President, Communications Sr. Consultant at Wells Fargo, Molly Robinson, SVP Omnicom Global Client Lead, and Sarah Schafer, Vice President, Integrated Marketing Campaign Lead at Wells Fargo.
In a first for the BIC Capstone, each team had access to two sponsors from Wells Fargo who worked with them throughout the semester to provide guidance as they built out their campaigns. Sevan's sponsor Erin Heaney, was also present at the pitch and acted as Wells Fargo's representative with our judges, Lori Beecher, Wells Fargo Media Relations CoE and SVP of Communications in Brand/Public Affairs and Kate Licht, Wells Fargo VP of Strategy, Digital and Innovation, joining via Zoom.
Throughout the semester, the three interdisciplinary BIC teams created integrated marketing communications campaigns to help Wells Fargo better understand their relationship to Gen Z in order to redefine banking of the future.
Each team answered the brief in substantive, powerful, and distinctive ways. Their campaigns were all truly awesome -- and spot-on strategic. With dynamic and persuasive storytelling, each team drew the consumer and all stakeholders in compelling ways that impressed the judges.
Team one: Sevan - "Do Better"
First up was Sevan with its "Do Better" campaign centered around the insight that even though Gen Zers and Wells Fargo were born over 155 years apart, both have an ever-progressive mind set that makes them surprisingly similar. Seeing these similarities between the bank and the target presented an opportunity for Wells Fargo to leverage this in their pursuit of redefining the relationship between banking and Gen Z. Sevan's research resulted in its campaign which aimed to show all the great things that Wells Fargo is doing and telling Gen Z "it can be better" and how they can "Do Better" together.
Team Two: in8 studio - "How Far Can You Go?"
in8 studio presented its "How Far Can You Go?" campaign building off Wells Fargo's pioneering legacy as a way to engage with the entrepreneurial and innovative dynamic of Gen Z. Playing off the bank's name, the team captured the brand's essence and centered its campaign around banking as a lifestyle and Wells Fargo being a catalyst to take Gen Z anywhere they can imagine.
Team Three: Socius - "We Dare You"
Finally, Socious took the stage with its "We Dare You" campaign focused on daring Gen Z to change the world. This was based on the team's insight that banks can alter the future and specifically how Wells Fargo is a bank that can not only change the future, but has the innovation that meets this critical moment in time. Through Wells Fargo's focus on corporate social responsibility, Socious' campaign showcased side by side issues in our world next to Gen Z being dared to make a change.
While everyone's a winner in the eyes of BIC, only one team could take home the title… And the winner was… in8 studio!!! Judges Lori and Kate delivered the news after a swift deliberation. They congratulated all teams for their efforts and thanked them for delivering incredible campaigns that went beyond the client brief as only a BICster would do.
Bravo, BIC Class of 2022! If these BIC campaigns have anything to do with it, the future of banking is in good hands!!
---
Recommended Posts
---
<< Previous post
Next post >>