Four BIC Teams Make The Young Ones 2022 Shortlist
By BIC CCNY Posted on 04/26/2022 10:00
Good luck to the BIC teams shortlisted in the 2022 Young Ones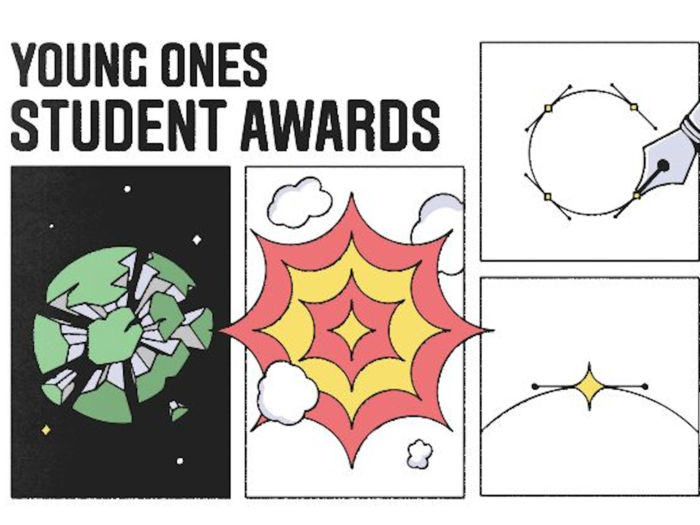 A Big BIC congratulations to the BIC teams who have been shortlisted for the 2022 Young Ones! Among them are the Weapons Amongst Us Crew:
Amy Perez
,
Justine Sanborn
, and
Ingrid Ramos
, for "Weapons Amongst Us," the BIC Dream Team:
Genaldri Tjahjadi
,
Hanako M. Suzuki
, and
Sekayi Williams
for "Rescue-A-Meal by DoorDash" and BAJA BLAST:
Bella Santana
,
Annanya George
,
Aubrey Downing
and
Jaymie Lunt
for "Call of Duty Warzone: Generations." Winners will be notified on Tuesday, April 26th, 2022. Good luck to you all!!
The
Young Ones
is a global creative competition from
The One Club for Creativity
that challenges students in creative studies to put their best foot forward in hopes of winning one of the first honors of their burgeoning careers.
The Weapons Amongst Us
About The Entry
School shootings in the US have become the new normal.
To raise awareness of the school shooting epidemic in America – and to honor the 10th Anniversary of Sandy Hook – what if Call of Duty, the most popular role-playing video game, could remind players that shooting should stay in the game?
To do so, we created a line extension called "The Weapons Amongst Us" that surprises players with gun stats that represent the names of school shooting victims. Along with additional event content, all in-game event purchases will be donated to Sandy Hook Promise.
Rescue-A-Meal by DoorDash
About The Entry
Food waste is a global issue that needs to be tackled from the local level. When so many restaurants are having to throw out perfectly edible food at the end of the day, why not take advantage of this surplus, with the help of DoorDash, to reduce food waste? That's where Rescue-A-Meal comes in: it's a DashPass members-only portal that unlocks at 8pm everyday to show local discounted meal options that are up for grabs. The portal features a retro game-themed design, including a countdown clock to create a sense of urgency for members to "rescue" the meals from contributing to the food waste problem. Ultimately, Rescue-A-Meal is how DashPass members can save the planet one delicious discount at a time.
Call of Duty Warzone: Generations
About The Entry
BAJA BLAST introduced a new game mode within Call Of Duty: Warzone called "Generations" to encourage people of all ages to connect with each other. The team aimed to get players to use the new game mode by creating two sets of ads for opposite ends of the age spectrum: young and old. The set targeting the elderly is displayed in and around senior centers and homes. The ads feature classic "game night" board games that tell the audience to ditch the traditional games and play Warzone.
They aimed to target the younger generation in transit and in hang-out spots like malls and by schools. The ads themselves feature a play on the traditional games, enhanced with Call of Duty themed doodles and language, evoking a more youthful sense. It encourages them to connect with older generations by introducing them to Warzone. In the end, through the Generations game mode, people of all ages can connect, converse, and because they believe Call of Duty is a game for the ages.
These students were among six teams overseen by BIC Professors
Gian Carlo Lanfranco
, Co-Founder & Ccco L&C NYC and
Rolando Cordova
, Co-Founder & Cco L&C NYC in this year's one-credit intensive course Competition Ready. This class not only provides structure and support for the intense creative development process, but offers instruction on how to translate the client brief into award-winning campaigns.
Good luck, BICsters!! We're with you!
---
Recommended Posts
---
<< Previous post
Next post >>