Throwback to 2011, 2018, and every year in between – WAATBPxBIC
By BIC CCNY Posted on 11/16/2023 16:47
BIC has been at The One Club's "Where Are All the Black People" since 2011, and will be there again and again.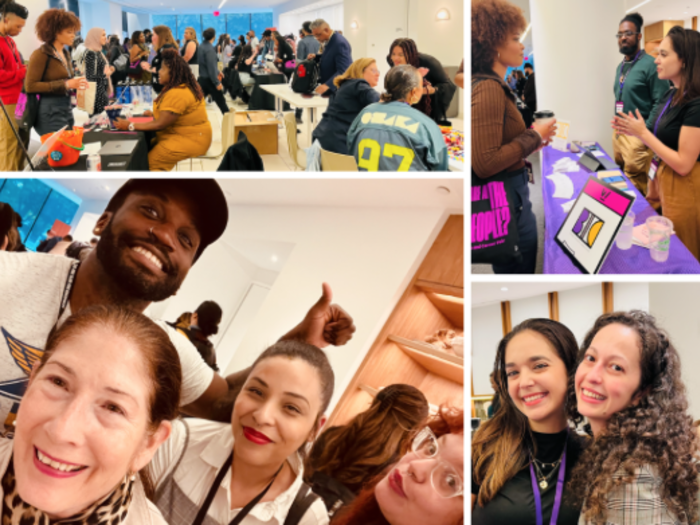 BIC has taken part in the annual The One Club for Creativity "
Where Are All the Black People"
conference from the very start. This year was no exception. BIC was there on October 27th at Convene in Downtown Manhattan. In the recruiting area, Program Manager
Rebecca Rivera
was joined by BIC Alum and Board Member
Shadiq Williams
'22, BIC Alum
Javier Garcia
'15, and BIC Comms Intern
Stella Ramirez
'24 to network with prospective students and recruiters about the program.
Leading up to WAATBP 2023, BIC helped promote WAATBP 2023 with a throwback social campaign featuring BIC alums who attended past year's events - including (but not limited to)
Paul Castro
,
Gaby Chiang
,
Bernard Perez
,
Annanya George
,
Valentina Preciado Bello
,
Kelvin Morales, MPS
,
Natalie Alcide, MPS
,
Sekayi R. Williams
,
Hanako M. Suzuki, MPS
,
Bonnie Tse
,
Genaldri Tjahjadi
,
Ingrid Ramos Aliaga
,
Alexis Brown, MPS
,
Dina Shehab
,
Sahil Shah
,
Kenneth Bracho
,
Himani Gupta
,
Iván Ramirez
,
Andy Kwan
,
Javier O. Garcia
,
Cecilia Gamo Castellanos
, and
Alicia Tuff
. The campaign got results. There were 405 attendees on the first day of the conference and 811 on Day 2 - including 123 recruiters who were there to meet young talent.
Take a look at some BICsters at past WAATBP conferences >>
Aside from creating buzz online, BIC students and alums enjoyed attending the 2-day conference both virtually and in-person. Together, BIC and CCNY made a strong showing at this year's WAATBP with 35 attendees in all. They networked with fellow young professionals, got their portfolios expertly reviewed, chatted with top creative agencies, and gained insightful advice from various industry leaders.
The date of next year's WAATBP has yet to be announced. But whenever and wherever it is, one thing is certain: BIC will see you there, same time next year!
---
Recommended Posts
---
<< Previous post
Next post >>