BICsters Kick Butt at 2023 Portfolio Bootcamp
By BIC CCNY Posted on 05/23/2023 14:49
To prep for the Final Portfolio Defense, the Class of 2023 has week-long portfolio intensive sessions.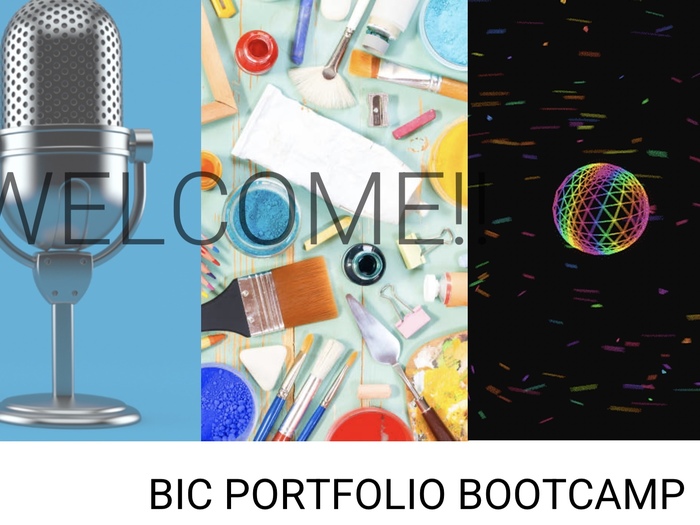 Each year, BIC follows its annual recruiting event, the BIC PiP (Portfolios-in-Progress), with a weeklong Portfolio Bootcamp, where graduating students get the chance to work intensely on their portfolios with the help of visiting professionals who provide design, content, and storytelling expertise. This year was no different with new opportunities for reflection, celebration, and innovation. Students from the BIC Class of 2023 were able to roll up their sleeves and take their portfolios to the next level.
While the first three sessions were remote, the final troubleshooting session was held on campus with local BIC alumni supporting 2nd year students to get their portfolios in shape.
Our professional mentors offered invaluable expertise and substantive feedback giving BIC students all the insider tips, tricks, and tools they'll need to perfect their portfolios for what we expect will be standout presentations on Portfolio Thesis Defense day May 30th, 2023.
A BIG BIC shout out to our amazing experts: Paul Barman, Christopher Brunt, Gerardo Cid, Paul Ewen, Danae Gosset, George Logothetis, Lorena Marques, Peter Seterdahl, Gustavo Stecher, and Yoni Weiss.
We were especially excited to welcome back some BIC alums who are now successful pros -- and truly know how to bring BIC portfolios to life. Joining us was Natalie Alcide '19, Henrik Bakke-Hareide '21, Cassondra Bazelow '16, Taylor Becker '20, Paul Bernabe '21, LaToya Heron '19, Jermine Hodges '21, Andy Kwan '16, Amy Perez '22, Ahmet Reisli '16, Ray Sein '20, and Shadiq Williams '22.
A Big BIC thank you to all our BICsters for their tenacity, perseverance, and dedication to developing their portfolios. We can't wait to see the work you defend at the end of May. Bring it on, BICsters!
---
Recommended Posts
---
<< Previous post
Next post >>