BICsters Pick Up TWO Silver Pencils at The One Club's Young Ones Awards
By BIC CCNY Posted on 07/19/2022 10:00
Big BIC Bravo to Genaldri Tjahjadi, Hanako Suzuki, Sekayi Williams, Sabrina Khan and Andrew Page!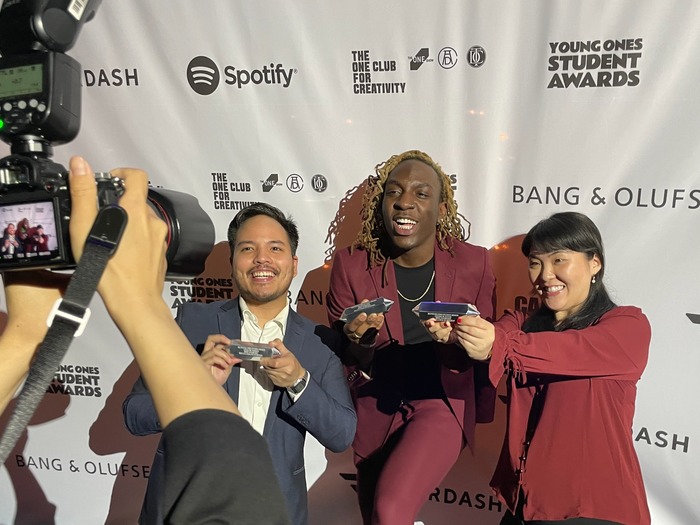 Every year, The One Show awards the best campaigns from around the world and is widely regarded as the industry's equivalent to the Oscars for creative excellence in advertising and communications. This year's awards ceremony was held at Sony Hall in Times Square where BICsters were joined by BIC Program Director and Professor
Nancy R. Tag
(who also presented the ADC Gold Cube for Motion/Film Craft) and Creative Track Advisor
Gerardo Blumenkrantz
.
Professor Tag marveled that "the amazing thing about BIC's showing at the Young Ones competition is that our students only tackle the Young Ones briefs in a one-credit course that only meets for four sessions. But thanks to their interdisciplinary smarts, BIC was able to submit five entries this year, had four teams shortlisted, and ultimately won two silver pencils! I couldn't be more proud of their efforts."
Thanks to this year's showing, BIC placed 13th in the US in the One Club's College Rankings, below top portfolio schools such as SVA, SCAD and Miami Ad School. This year's Silver pencils add to the long list of One Show awards since BIC's launch in 2013 >> three Gold Pencils (2020, 2017, and 2016), three Silver Pencils (2022 and 2019), two Bronze ADC Cubes (2020 and 2019), and four Merits as well as seven Client Pitch Finalists.
You can read more about their entries
here
.
Bravo BICsters, you rock!!
---
Recommended Posts
---
<< Previous post
Next post >>