BIG 6 Media Industry Leaders Partner To Fund BIC's New Media Impact Compact
By BIC CCNY Posted on 04/07/2022 10:00
BIC is extremely proud to announce the Media Impact Compact, featuring a $300,000 scholarship to fund BIC's first Media Track cohort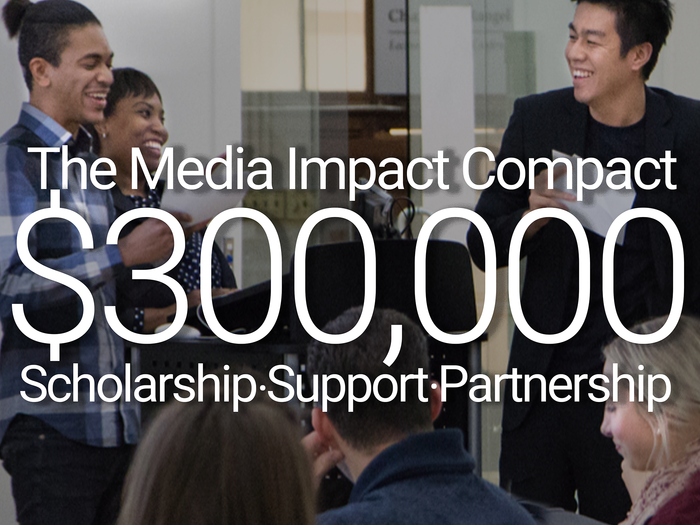 BIC is extremely proud to announce the Media Impact Compact, featuring a $300,000 scholarship to fund BIC's first Media Track cohort. This unprecedented alliance among the big six media agencies,
Dentsu
,
Havas Media
,
IPG Media Brands
,
Omnicom Group
,
Publicis Media
,
WPP
/
GroupM
, along with the non-profit organization
We All Rise Together
, aims to change the face of talent and create a marketing communications industry that's more diverse, inclusive, dynamic, innovative, and culturally significant.
The Media Impact Compact will award scholarships to candidates accepted into BIC's new media track for the BIC Class of 2024. Each $30,000 scholarship will cover in-state tuition – essentially making a BIC degree free. The Compact also includes industry support, guest lecturers, project collaboration, and so much more.
"The City College of New York is a diverse, dynamic and visionary institution dedicated to helping students vault into chosen careers," said Nancy R. Tag, BIC Professor and Founding Director. "Providing full-tuition scholarships to graduate students from underrepresented groups supports our mission to provide a world-class education that also aligns with New York City's quintessential professions and industries,including marketing communications. I cannot think of a better way to meaningfully integrate our new media specialization into BIC's interdisciplinary Master's degree program."
"This is the kind of collectivist initiative that highlights how much more we can do together to bring about the kind of change we want to see in the industry," said Hermon Ghermay, Global Chief Culture Officer at Mediabrands. "Everyone was energized by the impact that we could have, working across agency lines, to continue to immerse these students in the media industry during and after the program."
By supporting the City College Of New York's media sequence, the agencies hope to encourage business and advertising students from underrepresented groups to pursue careers in media as the industry broadly seeks to increase representation of diverse talent.
"We All Rise Together's mission is to help companies make a positive change in our industry as a collective, not just within our individual businesses. We can be stronger change agents by working together and that is why our joint support of this new scholarship at CCNY will be so impactful," said Judy Jackson, Co-Founder of We All RiseTogether and Global Head of Culture at WPP.
BIC is extremely excited to work with these 6 agencies and We Rise Together on this one-of-a-kind Compact to celebrate, support, and advance diverse talent and divergent thinkers for the next generation of industry leaders.
Interested in joining the Media track in the BIC Class of 2024? Our final round of applications are now open until June 1st. Start your application today >>
bit.ly/3sAoCki
---
Recommended Posts
---
<< Previous post
Next post >>