Social Data and Human Connections >> Fifty's VP Ryan Calabrese Stops By BIC
By BIC CCNY Posted on 03/17/2022 10:00
A few weeks ago, Fifty's VP Ryan Calabrese made an appearance as a guest lecturer in Prof. Sandra Stahl's Branding Influentials class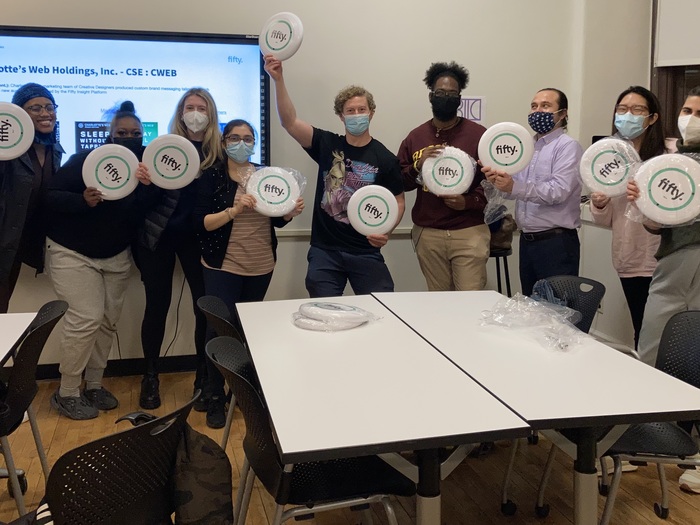 A few weeks ago,
Fifty
's VP
Ryan Calabrese
made an appearance as a guest lecturer in Prof.
Sandra Stahl
's Branding Influentials class! Fifty uses AI, technology and data to help brands understand their customers and power advertising to best engage them.
During the lecture, Ryan gave BIC grad students an exclusive demo of the Fifty Platform, and shared his learnings on how social connection data can be used to power influencer marketing by increasing accuracy & boosting results.
Big BIC thank you to Ryan and Fifty for sharing your wisdom and showing the power of social data. Also shout out to Prof. Sandra Stahl for facilitating the lecture and making sure BICsters stay close to the latest tech and trends.
Fifty's HumanContext technology utilizes social data and open-web contextual signals to help brands better understand and engage with customers and in-market consumers. At its core sits the Fifty platform, a user-friendly UX/UI featuring advanced visualization tools that transform complex audience datasets into easily digestible insights while identifying unique "Tribes" of users sharing similar profiles and behavioral characteristics through the lens of social media. FiftyAurora is a cutting-edge contextual targeting product built for the privacy-first era with a uniquely audience-first approach to cookieless and ID-free media activation.
With over 10 years experience in the AdTech space, including a 6-year tenure at the industry's largest independent stacks, Ryan is now leading global data strategy for Fifty as the company expands from its start-up roots in London. Originally from Syracuse, NY, Ryan now lives in Brooklyn, spending his evenings as an active musician in NYC.
---
Recommended Posts
---
<< Previous post
Next post >>