BIC Welcomes its 10th Cohort >> Class of 2025 Orientation
By BIC CCNY Posted on 09/01/2023 13:37
Our newest BICsters arrive at Shepard Hall for BIC Orientation and Luncheon.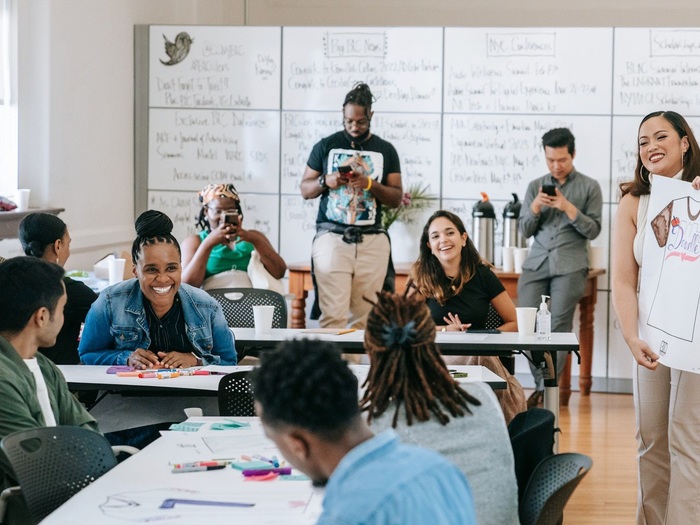 Last Tuesday, August 22, 2023, BIC welcomed its TENTH cohort, the Class of 2025, to campus for the BIC's Welcome Lunch and Orientation. NYC skies were crystal blue and the weather lovely — perfect for a day jam-packed with networking, advising, and creative thinking. Orientation wrapped up at the Baylander, a floating bar on the Hudson, where the Class of 2024 joined in to mix and mingle with the incoming class.
A lot of '25 students come from our own backyard: NINE BICsters are CCNY alumni this year — that's a record! Also, a number come from other CUNY schools: John Jay, York, Baruch, and City Tech… this is a hyper local cohort. And yet, our international students are coming from all over the map: India, China, Kenya, Norway, Israel, Argentina, Colombia, and Mexico.
The incoming class also has some serious undergraduate credentials. Students from the BIC Class of 2025 hold degrees from Penn State, The New School/Parsons, Ithaca College, Texas A&M, Berkeley College, Clark University, SUNY-Albany, and Georgia State University.
Collaboration is the future, and this year's BICsters will deliver multiple perspectives with bachelor's degrees in a variety of academic fields. Backgrounds range from BA's in Communication to Textile Technology, Information Systems, Finance, Sociology, Media Culture & the Arts, Political Science, Psychology, and Sports Management
And the variety within this class doesn't stop there: the Class of 2025 has one Rhode Scholar and one veteran in the mix.
After BIC Program Director
Nancy R. Tag
enthusiastically welcomed students to campus and to New York City, the media communications capital of the world, Program Manager
Rebecca Rivera
advised the students on their upcoming courses and the benefits of earning a Master of Professional Studies (MPS) degree from BIC.
The Class of 2025 was treated to an "Ask Me Anything" panel featuring BIC Alumni Ambassadors
Javier Garcia
'15,
Andy Kwan
'16,
Natalie Alcide
'19,
Shadiq Williams
'22 and
Bella Santana
'23 who gave insights on their own unique career journeys, favorite moments from their time in the program, how not to be "that guy", and tips on how to achieve during their time in the program.
Orientation wrapped up with BIC's annual Design Thinking exercise. This year, it was led by creative Professor and BIC Alumna Natalie Alcide, who had new BICsters partner up and design a T-shirt for each other. Students introduced their partners to the entire cohort through one-of-a-kind designs. This fun exercise allowed the BIC Class of 2025 to get to know their peers while getting the creative juices flowing!
Welcome to the BIC Class of 2025. We are so excited to see all the amazing things you accomplish on your new journey!


---
Recommended Posts
---
<< Previous post
Next post >>