Wrapping-up a jam-packed Spring semester
By BIC CCNY Posted on 06/02/2023 12:18
Classes, Conferences, Capstone…oh my!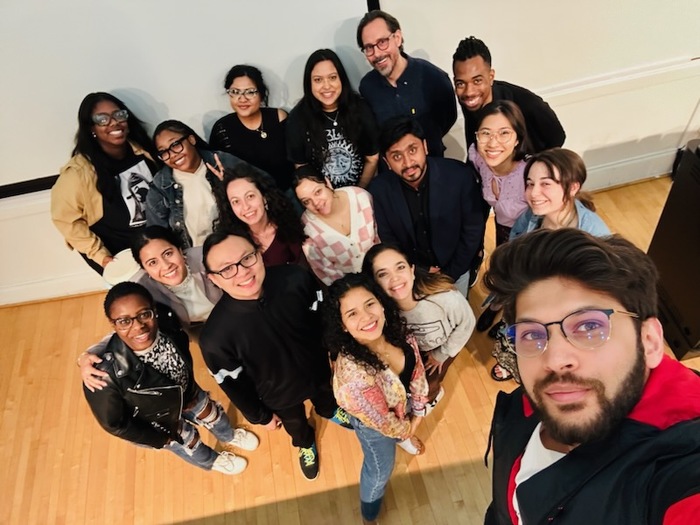 Each BIC semester is jam-packed for our BICsters, and this Spring semester was no different! Here are the courses led by returning BIC faculty (all of whom work in the industry by day and teach at BIC by night).
The Class of 2024 had their final foundation course, Brand Experience, led by Professor Scott Lachut. This class focused on the building blocks of brand experience and elements of 'on-brand' tactical execution.
Brand Influentials, taught by Professor Sandra Stahl, provided students with perspective and insights into how brands can explicitly utilize and/or partner with influencers in a market to pursue brand objectives.
Creative Concepts taught by Professors Marina Beldi and Jess Lomasson was an advanced studio course geared towards developing campaign concepts in the print medium based on strategic thinking. This course was held at the McCann office in Midtown, where Marina works.
Professors Rodes Ponzer and Michael Farmer taught students how to create and successfully manage – and lead – a productive communications environment in a creative, design-oriented, data-rich, process-driven and collaborative industry in their Internal Management class.
PR Branding Campaigns was taught by Professor Peter Walpole. This course gave a comprehensive overview of the PR strategic planning process within an integrated marketing communications plan. Peter works at Golin, where this smaller class met every week.
Each Spring semester, the BIC Corporate Capstone is led by BIC Professor and Program Director Nancy R. Tag who divides students into separate communications teams to fulfill the brief of a corporate client. BIC alum Javier Garcia '15 joined Nancy for four sessions at the end of the semester as students polished their final pitches.
Media rock star and BIC Professor Jane Lacher taught Data Analysis & Optimization. This Media course equipped students with the language, systems and confidence to understand and assimilate the vast resources of data available to today's marketers to maximize audience communications and increase return on investments.
Professor Andrei Chahine, a Creative Director with a wide range of experience, led Creative Round Robin. This course is designed like "speed dating," but with agencies. Students met with 5 creative shops to have lightning rounds of "brief & critique", ultimately finalizing some of those pieces for their portfolios.
In the Design & Portfolio course, taught by Professor Aste Gutiérrez, students worked in art director/copywriter teams to apply design skills, polish writing, and utilize design software in order to digitally produce their existing campaigns for inclusion in their portfolios.
One part psychology and one part communications theory, Consumer Behavior & Persuasion taught by Professor Sam McNerney trained students to better understand what makes consumers tick and to harness that knowledge in order to develop effective brand communications and relationships.
The intensive four session, one-credit course Competition Ready gave students the space to deep into the strategies, concepts and executions that win. Taught by Professor Craig Eliimeliah, students entered into The ONE Show's Young Ones competition and FIVE submissions were shortlisted!
As graduating BICsters prepped for their Final Portfolio Defense at the end of the semester, these courses, geared towards each unique track, helped them focus on polishing their portfolios to professional level quality before being judged by a panel of discipline experts on May 30th.
Management/Planning Portfolio Thesis led by Professor and Program Director Nancy Tag
Creative Portfolio Thesis led by Professor Jaime Schwarz
PR Portfolio Thesis led by Professor Katina Scott
On top of working hard in their classes, BICsters also took time out of their schedules to attend industry conferences and Career Fairs. Some of the events BICsters attended included:
BrandX
PRSA Tri State
ANA Diversity Career Fair
The Lagrant Foundation Real Talk Networking Event
AEF Creativity and Emotion in Marketing
Wall Street Journal's The Future of Everything Festival
PRAXIS 2023
Youth Marketing Strategy NYC Conference 2023
Breaking Barriers 2023 Summit
Adobe Summit
Ad Age Next: Social & Influencer Marketing Conference
Digiday Gaming Advertising Forum
Adweek Sustainability Summit
Hard work pays off. Enjoy your summer, BICsters!!
---
Recommended Posts
---
<< Previous post
Next post >>